BETWEEN ORIGINAL VOICE AND DECORATED PARAPHRASES 0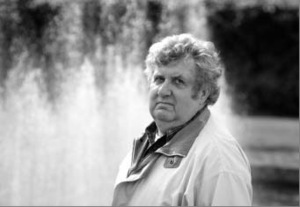 (selection of poems "Dance of a Ferret" of Algimantas Mikuta) Mindaugas Grigaitis
www.kamane.lt , 2008 03 29
Algimantas Mikuta. Photo by V.Tamoliūnas
In brief: Most probably every critic is searching for the original voice standing out by individuality and authenticity. Reading the newest selection of poems of Algimantas Mikuta "Dance of a Ferret", the author of the article searched for such a voice in particular, which would rise above language cliches and enable the reader to experience the world anew. Especially, having in mind that critics call the search for reality, authenticity and individuality the most prominent features of A. Mikuta poetry.
The poems of the selection may be divided into three groups – poems creating existential reflection, humorist works playing spontaneously with comic situations and accords of sounds and poetic satires which laugh at the vices of contemporary society.
All existence forms of a subject are encompassed in the selection "Dance of a Ferret" – from childhood memories, relation of man and time, man and things to reflections on the process of writing itself. It is possible to notice the original voice of the poet in all poems, an individual relation with existence is revealed. Still, this voice is slightly priced down by the judging tone of the poet.
Vices of the society are criticised in the biggest part of poems. The lyrical subject often regrets that the society is inclined to the banality of non-stop views, mass consumption, greediness, craving for honour, lechery. The constantly repeated contradictions between the creator and city inhabitant, person and the masses push the selection towards stereotype and naive moralisation.
There are poems in "Dance of a Ferret" that give birth to the authentic shining of existence; still, problems appear when the poet speaking of his own and other people's existence becomes a critic of others.
Perhaps it is not difficult to find poetic language to criticise the society – one only needs to decorate the blocks of daily language by several stylistic ornaments. However, such speaking is only a passive protection of abstract ideas about individualism and authenticity. Creation of authentic language is not an easy challenge for poets. A. Mikuta comes close to such language in some poems but often he takes the easier road – he starts speaking about dangers for individuality instead of speaking in an individual manner.
Of course, understanding and evaluation of poetry is always a very subjective and private issue; therefore, the author makes no verdict. Naive moralisation dispirited the author of the article more than the original voice gladdened him in the newest selection of A.Mikuta. Still, every reader will decide what he finds in this selection – more depth or surface, original voice or decorated paraphrases. In any case, the reader will not be bored.