CASTLE OF BULLY-BOYS IN LANDS OF MIGRATING FESTIVAL 0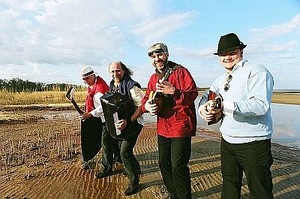 Osvaldas Grinius
www.kamane.lt 2008 07 02
In brief: The organisers of the 13th Pažaislis Music Festival are constantly searching for new untraditional spaces which would help to reveal the sounding music anew and which would attract the audience; therefore, it is possible to call the festival migrating. June 28 was no exception. The Lithuanian State Symphony Orchestra and the instrumental quartet from Russia Terem performed at Kaunas Yacht Club.
Four distinctive artists of the quartet Terem, which means castle, Andrej Konstantinov (soprano domra), Aleksej Barshchov (second domra), Andrej Smirnov (bayan) and Michail Dziudze (double-bass balalaika), were able to charm and interest the audience by their live and convivial playing. All four instruments are considered to be Russian folk instruments; still, the collective does not have much in common with the traditional Russian musical heritage besides the typical sound of these instruments and some motifs of Russian folk songs.
The music and genres performed by the collective is surprising and unpredictable, and the style of music played by Terem may be best described as hooligan-like intellectual and intellectually hooligan. The mood of the programme changed from deep and expressive, serious music in Nikolaj Budashkin concert for domra and orchestra, in the famous Astoro Piazzolla's "Libertango" or Rodion Shchedrin's "Imitating Albenis"* to snappy solo numbers in which light improvisational music elements sounded.
One of the most intriguing factors of the concert was the arrangements of music pieces created by the quartet Terem itself. The collective creative work stands out by a special sense of satire and humour. This is extremely visible in the theme of the popular Andrej Petrov waltz in the cinema film "Beware of the Car". Meanwhile, the most quickfire piece of the concert is perhaps the dog's waltz, which we learn to play by the piano in childhood and which turned into the ironic motley of various popular waltzes and other melodies.
The Lithuanian State Symphony Orchestra conducted by Gintaras Rinkevičius performed the modest role of an accompanier in the concert and played softly, harmoniously and impulsively. It would have sounded even more effectively if not for the poor sound quality prevailing in almost all concerts of the 13th Pažaislis festival. Another problem was the programme of the festival with a number of spelling mistakes.
Despite the listed drawbacks, it is evident that Pažaislis Music Festival is experimenting successfully by expanding its existential spaces and searching for new methods to attract and interest the audience. The show of the quartet Terem was really intriguing and encouraging to take a deeper interest where the musical and geographical landmarks of the festival will turn in future.
____________________________
* "Imitating Albenis" – "В подражание Альбенису" in the original language. It is a humoresque of R.Shchedrin, the original variant of which has been created for the solo fortepiano or the violin and fortepiano.