BAROQUE PEARL IN KAUNAS SCRAPHEAP 0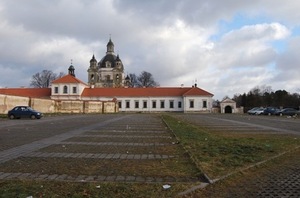 (Public-spirited notice) Aušra Blinstrubaitė
www.kamane.lt , 2008 01 22
Scrapheap round Pažaislis monastery. Photo by A.Blinstrubaitė
In brief: Kaunas and the entire Lithuania is proud of the unique pearl of late Baroque in North and Eastern Europe – Pažaislis monastery ensemble. It is one of the most beautiful and most visited cultural heritage objects in Kaunas district attracting the eye by its architecture and picturesque surroundings. Sadly, the pearl is presently shining in the heap of litter...
While boards for preserving Pažaislis ensemble are being established and while nuns living in the monastery are trying hard to maintain the complex of the monastery as well as possible, the surrounding territories of the monastery are full of litter – the same situation could be observed during the summer and now in winter.
The territory of the monastery is well cared for but the area outside its walls, especially the automobile parking lot, meets guests as no man's land. Who should take care of the tidiness of surroundings of the monastery – the park and Kaunas Lagoon banks? Should it be the public enterprise Pažaislis Culture and Tourism Centre open in Pažaislis monastery?
Should it become the concern of Pažaislis Board presented on January 6 on the Twelfth Day – representatives of the society and culture (Kaunas archbishop metropolitan Sigitas Tamkevičius, Kazickai family fund manager Zenonas Bedalis, Kaunas mayor Andrius Kupčinskas, composer Giedrius Kuprevičius, journalist Dalia Kutraitė-Giedraitienė, lawyer Irmantas Norkus, director Gytis Padegimas, art historian Mindaugas Paknys)?
On another hand, Pažaislis monastery belongs to Kaunas Lagoon Regional Park. The direction of the park has established Pažaislis Architectural Reserve encompassing Pažaislis architectural ensemble, visual protection zone and Pažaislis park. The territory of the reserve is 37 hectares. As one of the aims of the reserve is to preserve the unique Lithuanian Baroque monument of the 17th -18th centuries, perhaps this institution should take care of the visual zone and its tidiness?
The answer should be searched for not only by institutions but also by those 50 thousand visitors of Pažaislis per year. Perhaps the preservation and maintenance of cultural pearls should start from simple things each of us can do – collection of litter or not littering? This requires less funds than the restoration of the heating and ventilation system and the entire complex of the monastery.
Meanwhile, the view is disgraceful: the Baroque pearl is dipped in the sea of litter.