ATTEMPT TO SQUEEZE INTO OLD TOWN OF KAUNAS - STILL UNSUCCESSFUL 0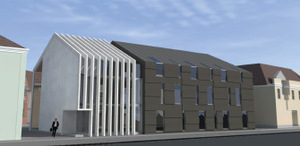 According to the minutes of KAUET meeting of 17 12 2008,
kamane.lt 2008 12 30
1. OFFERS FOR THE TECHNICAL PROJECT OF THE BUILDING OF EDUCATIONAL PURPOSE AT A. JAKŠTO Str. 6. Designer - Sava Erdvė UAB. Customer - Lithuanian Kolping Fund.
In brief: The meeting was headed by Audrys Karalius.
According to G.Stanislovaitis, the purpose of the buildings is educational and administrative. The building will be used for the administration of the Lithuanian Kolping Fund (area of office premises - 143 sq m), and halls for small groups of pupils (up to 85 pupils), a meeting hall of 130 places, several short-term lodging rooms and utility premises are being designed.
The land plot of the building is located in the old town of Kaunas, between A. Jakšto and Raguvos Streets. The crashing building was pulled down in the site, and archaeological research is being performed. The building is designed in the western part of the land plot in the place of the pulled-down residential house and near the former building. The main entrance is planned from the yard side.
The designed building is of three floors with an attic and cellar, of one volume, sloping roof. Different finishing of facades marks two buildings that were located in the site.
Two variants were offered: to separate the facades into two parts in order to mark the border of two former buildings. The facade of the bigger part would be covered by dark grey stone mass boards or Trespa boards. Another side would be mounted from reinforced concrete frames. The second variant is to build street and yard facades from clinker bricks, to divide the facade by vertical pilasters and to mark the borders of former buildings by bricks of different colour - dark brown and yellowish.
After considering the offer and expressing their opinions about the proposed construction solutions, the experts' committee came to a conclusion to disapprove of the offer. They recommend to consider the project one more time taking into regards the following notes: to review urbanism decisions taking into regard the performed historical – urbanistic research. The view typical of the old town should be restored according to possibilities. The 1st variant of aesthetic direction was approved of.
The experts recommend to refuse the corner entrance and the stylistically inorganic attic from the yard side. The experts believe that the designed volume is too wide in the context of the old town. At least part of the building should be narrowed to the width of the former building.
The building could be more integral, volumes should be separated in a more subtle manner. Large volumes untypical of the old town should be avoided. Contemporary, bolder aesthetics is welcome.
Prepared by Jūratė Merkevičienė