HARD WEEKEND FOR PIANISTS 0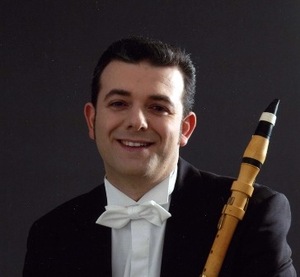 Vaiva Mažulytė
www.kamane.lt, 2008 08 26
Tony Salar-Verdu
In brief: The 13th Pažaislis Music Festival, which is coming to an end, does not let performers and listeners be bored. Without stepping over the limits of classical music, concerts vary both by genre and style.
Chamber music pieces of the 19th century German composers performed by authentic instruments resounded on August 22, romantic and French composers' music of the 20th century could be heard on August 23.
Tony Salar-Verdú (clarinet, Spain - Germany), Aleksander Puliajev (hammer clavier, Russia – Germany) and Mindaugas Bačkus (violoncello, Lithuania) tried to go back several centuries and to introduce the sound of those times to listeners at the Communication History Museum. Hammer clavier was the main instrument that interested people – it is not often that this instrument may be heard in Lithuania.
Two fortepiano (or to be more precise hammer clavier) trios were played by musicians - C.M. Weber's great concert duet for the clarinet, fortepiano and L.van Beethoven 32 variations for the fortepiano solo. After changing the programme several times, T.Salar-Verdu, A.Puliajev and M. Bačkus chose the one that requires the biggest effort from the pianist. He did not have a single break in the concert of one part, and this could have had influence on the performance quality.
All three musicians felt each other well, general phrasing, dynamic nuances and single breathing showed wonderful results of playing together. Still, the pianist had more trouble while playing alone. Most probably, he did not have enough time to prepare the changed programme well.
The cognitive concert took place, the audience heard the sound of rare instruments, people even applauded after every part of the music piece. However, if not for the beautiful playing in ensemble, warm communication of M.Bačkus with listeners, the concert would be similar to a good music lesson at school.
Saturday afternoon was not successful for the pianist Leonidas Dorfmanas at M.Žilinskas Art Gallery as well. The musician residing in Germany conceded to his stage partner, the soloist of London Covent Garden Royal Opera soloist Liora Grodnikaitė by the mastery.
The mezzo soprano L.Grodnikaitė was exceptional not only by the wonderful voice. The singer of expressive features rendered the artistic meaning of arias masterfully. Emoting every heroine of opera, she told a new story every time. The voice of smooth timbre slightly lacked strength, still, perhaps it was the gallery acoustics that did not let her show this strength.
Having sung arias of A.Thomas and J.Offenbach moderately, L.Grodnikaitė did not save her voice later and, like a really mature artist, she sang two Charlotte's arias from J.Massenet opera "Werther" and Concepción's aria from M.Raveli opera "The Spanish Hour" really powerfully.
Meanwhile, the pianist's task was really hard that evening. As an accompanist, L. Dorfmanas adapted to the signer well. However, when he needed to fill breaks between vocal numbers and to turn the piano into an orchestra, the task seemed too hard for the pianist. It was evident that the etude of waltz form of C.Saint-Saens and M.Raveli "Play of Water" were too complicated music pieces for him. Only three E.Satie "Gnossienne" sounded well – the improvisational feeling of the pianist revealed here.
Evidently, pianists who played in both concerts overestimated their strength. One may hope that these are temporary failures, which will not prevent the musicians from improvement and seeking for irreproachable playing.