LIONGINAS ŠEPKA: PHENOMENON OF GOD CARVER 0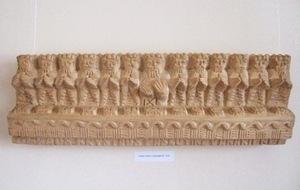 (Exhibition of Lionginas Šepka creative works dedicated to the 100th birth anniversary of the most famous Lithuanian god carver. A. and P. Galaunės Home, Kaunas) Kotryna Džilavjanaitė
www.kamane.lt, 2007 10 09
Virgin Mary
The Last Supper
The Cross. To Danutė – Lionginas
St. George
In brief: He was called by various names: Pandėlis "silly man", strange god carver, genius, real artist. He signed proudly: "architect Lionginas Šepka". One may shrug shoulders but it becomes understandable later – the artist tried to describe his attitude towards sculpture in this way.
The artistic thinking of the wood carver L.Šepka was really architectonic. It may be noticed not only in works of small architecture – in monuments, tombstones, chapel-poles. Every sculpture, even of the smallest format, is like a separate world with a complicated internal space, relations of volumes and images.
Šepka discovered the skills of a sculptor rather late in himself when he had lived half of his life already (1907-1985), still, he was soon recognised. The cottage of Lionginas in High Lithuania became a centre of attraction, similarly like Orvidai homestead. The hermit life of Šepka and original creation attracted people not only from Lithuania but from abroad as well.
The legend of Šepka is alive till today, when his 100th birth anniversary is commemorated. Lionginas was a very productive artist; therefore, there were some works of lower value among thousands of carvings. The spectrum of themes of Šepka was very broad – gods and Lithuanian dukes, mythical Greek heroes and soviet "heroes", animal plots as well as episodes of his own and friends' lives.
The rather narrow exhibition of 20 sculptures of Šepka opened at A. and P. Galaunės Home does not represent the entire creation of the artist. Works of religious themes prevail here; therefore, the talent of Šepka as a god carver is emphasised. Figures of Jesus Christ, Virgin Mary and saints are speaking silently in the exposition.
Šepka broke canons of traditional iconography freely: his god is standing, nestling arms against the chest or sitting in Egyptian manner like ancient pharaohs' sculptures. The faces of Šepka sculptures are very specific – oblong, generalised, with large semi-closed eyes. It is not in vain that women called Šepka infidel – he looked at the created sculptures as an artist rather than as a prude. He succeeded to find the free sculptural form and reveal the original and individual direction of belief.
Šepka was a sincere Christian but his subconscious was penetrated by relicts of pagan world. Plant and animal motifs are frequent in his works. While a bird may be called the favourite motif of the artist, the dragon is a like a totemic animal, a talisman. The dragon is the main figure in the compositions on the theme of St. George, in which the wide imagination of the carver is evident.
Still, the small exhibition is not sufficient to get acquainted with the phenomenon of Šepka carvings. His unique, complicated and sometimes even eccentric works are not presented here. The majority of his artworks are so contemporary, event post-modern; therefore, Šepka may be called a sculptor who has surpassed time.