LAIMA ORŽEKAUSKIENĖ: TEXTS OF TEXTILE AND CHURCH CONTEXTS 0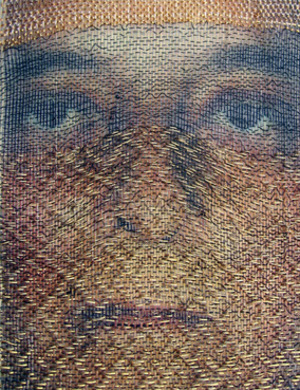 Dr. Rasa Andriušytė
www.kamane.lt, 2007 12 05
In brief: The exhibition of the textile artist Laima Oržekauskienė was open at Kaunas St. George Church for only three hours of one midday. The visitors experienced a strong impression which will last for a long time. The main features of L.Oržekauskienė creative works is respect to textile craft, topical thoughts and contemporary methods of expression related with photography and other computer technologies.
The artist realises the classics of weaving as an objective thing and tries to turn into part of contemporary art by analysing classic weaving techniques coherently. The idea of an artwork is closely related with specific possibilities of technique and fibres for L.Oržekauskienė. Skeins of different thickness and shade model form optically and create the variety of colours. It is a complicated technique demanding great accuracy created by the author herself. Every skein (of gold, hair or cotton) is not only decorative but also renders a code of information. The impact is really strong – it seems as if one is standing at a live body or icon.
Another field of interest of L. Oržekauskienė is the visual features of an ornament and its symbolism. The artist follows the Indo-European ornamentation, patters of Baltic webbings. The ornament of uncinate cross prevails. Lately metamorphoses of crux gammata ornament are becoming a basis according to which magic dimensional views of a body are modelled by computer technologies.
Female discourse predominates in the works of L.Oržekauskienė. The motif of a naked body is used, images of femininity and masculinity are exploited, female experiences are revealed. The author speaks about life, illusions and losses. A penetrating look, cosy and sometimes drastic intimacy of the works of L.Oržekauskienė turns into a deep space of an artwork felt by senses rather than realised by brain. The author highlighted female experiences in a more open and ironic manner in the newest work "Proposal" (2007), which was exhibited on metal gates of the churchyard.
The exhibition of L.Oržekauskienė was organised in the physically robbed space which preserved its internal sacrum on purpose. The idea corresponded to the aim of the artist – to plumb the depths of the common human consciousness by works based on female self-observation.
Neither the twilight of December nor the painful dampness overran two important things: the exposition was unusual – works were presented even outside the church, and the combination of the old and the new surprised pleasantly. The works of L.Oržekauskienė hung on walls, placed in corners burrowed to walls counting hundreds of years. The works became part of the old wall painting and revealed additional meanings which were earlier deadened by sterile environment of exhibition halls.