IN MEMORIAM OF A.VAITKŪNAS. STORIES OF ALYTUS LUMBER-ROOM 0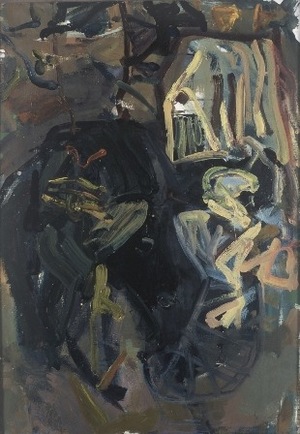 Aušra Barzdukaitė-Vaitkūnienė
www.kamane.lt 2007 12 03
A.Vaitkūnas. "Old couple. Improvisation on the Theme of Old Clothes." Canvas, oil, 116x81 cm, 1997
After celebrating the year 1994, we left with Arūnas to Alytus. Winter, much snow, slowed-down life. We used to wander near the Nemunas, the old mound where trains used to commute once during days. Arūnas lit the fire in the grandparents' furnace and we used to read in evenings.
We decided to visit Rumbonys village, the mound and ruins of a former manor one morning. Rumbonys is eight kilometres north from Alytus. We left by a bus and walked to the village. To be more exact, we flew rather than walked as a real storm started with wind and snow, and the sky and the earth merged into one grey-white cloth. Only two small black figures were pushed forward..
It was hard to breathe as biting bits of snow glued our eyes, noses and mouths. Real winter from "Seasons" by Vivaldi. We reached the village covered in snow, and harmonica was played there loudly, fat women with red faces and drunk men were dancing on the snow. Christening was celebrated in the village. The festival of Peter Breughel's times. We were treated as well, we also felt merry. We skated from the mound of Rumbonys, visited the church and belfry built in 1742. We were brought back to Alytus by the Žiguli car without seats by an unknown woman. We were sitting on the metal floor.
After the trip via snow-covered fields when only white colour and wide strokes of a brush – branches of black trees prevailed – Arūnas dipped into thought. He experimented something in silence by watercolours on sheets of paper during days and evenings. He did not hurry to share the ripening idea but he noted that he needed to change the method and tools of painting.
We spent several summers and winters in Alytus. Arūnas felt at home here. He used to speak regretfully about the reorganised old town of Alytus. He was sorry for the ruined old meat shops from red bricks in the centre of Alytus – Jews used to sell their products here once. Synagogues were falling apart and were not tidied as well. He admired wooden houses, curved streets around the market. He used to wake up at six and rush to catch a motif in summers. He was drawing fast sketches on the cardboard as he needed to register the environment as it was – later it could be rebuilt or brought down.
The son Tomas was born in June of 1995. Arūnas wrote to his aunt Birutė Nagienė (wife of the poet H.Nagys) to Canada: "Dear aunt Birutė, we may already announce that the little Vaitkūniukas was born under the sign of Gemini on June 21. Aušra says that he looks very much like me but it seems to me that he looks like my grandfather from Alytus."
Thus, we spent summers of 1996-97 with our small Vaitkūniukas at Arūnas grandparents' home in Alytus.
What about painting? It did not suffer from this. Neither my works nor Arūnas' works. We painted in shifts: when Arūnas looked after Tomas, I worked. Arūnas painted in the lumber-room in the yard. Old things of the grandmother were stored there – cupboards, forgotten chests, coats worn by grandparents were hung on the ceiling. Arūnas discovered motifs of forgotten and rotting things. Things with personal touches and prints left by close people.
These things were in the memory of Arūnas from childhood but now they were no longer necessary and became plastic signs. The formats of paintings were not very large but corresponded with the term of "easel painting" the most. The colours were rather dark as he painted shadows and twilight of the lumber-room.
He created a work "Old Couple. Improvisation on the Theme of Old Clothes" in the summer of 1997. The painting has strange colours, deep rich shades of grey and black. Free strokes contrast with yellowish touches of the brush – a running figure on the right side of the painting in an interesting manner. Looking closer at the canvas, one may see a massive black figure covering the running and moving light form. Two forms-figures are like the Chinese yin and yang, the composition of the painting is indissoluble, it is a closed circle. It is the life of Arūnas grandparents who lived in marriage for more than fifty years; and the clothes left by them. Such patient union of two people was a value for Arūnas, which he expressed by the plastic of painting.
Arūnas exhibited paintings created during summers in Alytus at Kaunas Drama Theatre in 1997. He wrote a small text for the exhibition that paintings of an unknown painter had been found and that they were exhibited at Kaunas Drama Theatre after wiping the dust off them. The exhibition was called "Stories of the Lumber-room".