IN MEMORIAM OF A.VAITKŪNAS. NEW YEAR 0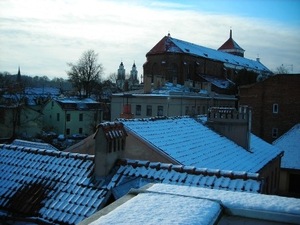 Aušra Barzdukaitė-Vaitkūnienė
www.kamane.lt , 2007 12 03
From the balcony of A.Vaitkūnas workshop – view to the old town
"Only the state when you do something is important (to remember the state in which you created a good painting). It is the only value, and everything else is only means, while work is the expression of them," Arūnas has noted such thoughts in his notebook.
It is his main attitude and value in life which he tried to follow even during the New Year's festival. He strived to dip into the state of creation, to draw a painting – it was vitally important to him. Later – to find "means" in order to grant expression to new works.
Arūnas used to speak: "I used to meet the New Year in my workshop the most often. I used to paint. I stood at the easel even at twelve o'clock. Such was my tradition so that I would be able to paint successfully in the following year. When I paint on the New Year's eve, the city space, everything seems to be empty and clean. People are engaged in the celebration of the New Year, the thoughts of everybody are calm. Then the city space becomes very clean. Chaos and noise of thoughts disappears. It is very pleasant to work at that time as only pure ideas are left. Later I used to visit my friends. Sometimes friends visited me. Merry things used to happen then. Once we celebrated the New Year at my workshop. I went to see Audronė (painter Petrašiūnaitė) off in the early morning, and Augis (Varkulevičius) came to the balcony and started playing the saxophone for roofs. The entire old town echoed with this sound. Neighbours knocked on the door but Augis did not hear it as he was playing..."
The painter Antanas Obcarskas remembers: "I used to visit Arūnas before the New Year, when there were some two hours left to twelve, and he used to paint. He painted a large canvas, which was covered by a thick layer of paint, the canvas was even black from it – when you paint long and expressively, the colours turn black, everything becomes grey and looks almost like mud. Arūnas wants to extract something from it, he thrashes the canvas and runs about in painted clothes saying that I should wait till he finishes. He steps back and then starts thrashing by the brush again. He says that it is the last work of the year."
When we were married, Arūnas followed his tradition to paint in the workshop during the New Year's festival. If we celebrated at home, he returned before twelve. If we were invited to visit somebody, I remember how Arūnas mumbled in discontent that he needed to break his tradition. He longed for that clean space of the city without thoughts of people, which was there only once per year.
He did not like noisy festivals, especially mandatory ones. He used to joke ironically: "Let's celebrate how people require. Let's do like everybody does it."
I remember one celebration of the New Year, it was 1995 perhaps. I believe that I am not the only who remembers this celebration. The art critic Rasa Andriušytė invited us and common friends to her home for a festive lunch. Rasa prepared the lunch in a beautiful manner – the table was decorated nicely and it was cosy at her home. Many different guests gathered; therefore, tension could be felt in the conversation from time to time. When Arūnas sensed this, he started singing a pop song: "...whom are you going to celebrate the New Year with..."
Arūnas repeated the extract from the song several times during the New Year's eve. When the conversation of guests became harsher, Arūnas started singing.
Later we remembered the motif of the song for many years. When we talked with each other on the phone, especially with Milda Kairaitienė, we used to sing the melody of the New Year instead of saying hello to each other.
I guess that every guest of that evening asked about the celebration of the New Year would start singing "...whom are you going to celebrate the New Year with..."