IN MEMORIAM OF A.VAITKŪNAS. FAMILY 0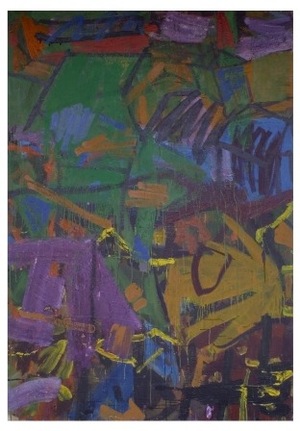 Aušra Barzdukaitė-Vaitkūnienė
www.kamane.lt, 2007 12 03
A.Vaitkūnas. "Small Houses Near the Nemunas", canvas, oil, 192x130cm, 1996.
The family, its roots and traditions were important to Arūnas. Born in a family of Kaunas intellectuals, brought up by parents and grandparents from childhood, he took over the respect to family values.
Arūnas was proud not only of his parents (both of them were medics) but also of grandparents. He had a possibility to get acquainted with parents of his mother and father; therefore, he called them grandparents of Kaunas and Alytus.
The Kaunas grandfather Pranas Vaitkūnas was the manager of Šiauliai bank during the times of Smetona. Arūnas was impressed by it, as he used to say. His grandmother Elena did not work. The grandfather Pranas had an artist's vein – he loved to direct performances for home theatre. He bought and granted a child's violin to Arūnas so that he would learn to play. Later he brought his grandson to Naujalis Art School for learning painting. Actually, they were slightly late to the entrance examinations but Arūnas was accepted.
This was how the artist's road began. Later he wrote in the margin of art history synopsis while studying at art institute: "I was asked at the age of seven whether I wanted to be a painter. I answered no. I was asked why? I explained that artists did not have holidays."
Augustinas and Morta Švenčioniai – grandparents of Arūnas from the mother's side. The grandfather Augustinas was an organ player. He used to play the organ in two churches in Alytus. His grandmother Morta was a strict woman but she loved Arūnas greatly. He used to spend summers of his childhood along with his brother older by two years Vytautas in Alytus. The grandparents' house stood in the so-called "resort" part of the town, in Maironis Street.
The Nemunas surrounded by huts and small houses was on the one side. Later Arūnas painted a large canvas "Small Houses Near the Nemunas". A pine forest with a pond called Dailidė was on the other side.
Arūnas has preserved many memories from childhood and teenage years in Alytus. Living among dignified people, he took over respect to people himself. He knew how to respect women in the family and professional field. He never laughed at or disdained female artists, which was rather often done by male artists in the Soviet times.
Studying at the art institute, he used to visit grandparents in Alytus in summers. He painted. Several works of Arūnas from the student years have remained – corners of the grandmother's kitchen or the grandfather's room is pictured in them. He has also painted a portrait of his grandfather.
He often told how the grandfather taught him to ride a bicycle or how he took him for a swim in the Nemunas as the water was very clean at those times. He, his brother Vytas and grandma used to listen to grandpa's tales.
Sentiments and nostalgic memories have remained in the head of Arūnas. After the grandparents died, the house was left empty and he used to go to Alytus rather often. He found peace there and travelled in the surroundings. He knew the paths of Vizgiris old forest by heart. He ran away from the city to the grandparents' house at wintertime or during holidays and read books or contemplated. He always needed to be alone in order to concentrate.
When we became friends, Arūnas invited me to Alytus after a year. He evaluated people with caution and opened up his personal places only to reliable people. Evidently, I was accepted to the circle of reliable people as well in 1991.
Arūnas showed me the discovered barrows, the habitats of blackcocks and marshes in Vizgiris forest in Alytus. He told stories of Maironis Street residents known to him from childhood, about the slow and unhurried life of his grandparents.
Once he asked me whether I would travel till the end, if I would, or stop in some transitional station. I felt those metaphors of Arūnas by my heart. We used to speak in this way and then dispute whether the statement with a disguised meaning meant one or another thing exactly and what we wanted to say to each other.
However, that question hit my heart with fear and joy then. I said I would travel till the end.
Then we walked along the scarps of the Nemunas, sat near old oaks, observed the flow of the river and were happy that we would be together till death does us apart.