HIGH FREQUENCIES OF TEXTILE ART 1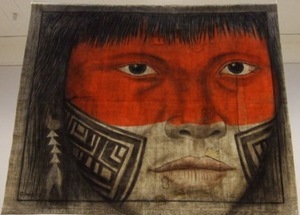 (Kaunas art biennial "Textile 07") Kotryna Džilavjanaitė
www.kamane.lt, 2007 12 21
Yasuko Iyanaga, "Gift of Sea Air"
Langa Magwa, "Multiplication of Identification"
Margarita Benitez, "Mission Completed"
Naglis Rytis Baltušnikas, "Give me / Take it"
Romulo Chaves, "Look of a Local Brazilian"
Vladas Oržekauskas, "Lady Without Unicorn"
Walter Oltmann, "Mother and Child"
In brief: It has been a long time since Kaunas was so lively and running a fever of art, galleries were full of artworks and flooded by people, cafes and public spaces of the city were brought to life by intensive discussions, performances and actions. Process, dynamics and rhythmical pulse of art – Kaunas art biennial "Textile'07" vibrates with all of this today. The organisation of the biennial was irreproachable this year. The selection of works and curators' system was extremely transparent and intellectual.
The biennial of textile organised for a decade already has already formed its original character and temperament, which may be described as sanguine reaction, emphasised extrovert features and live interest in contemporary tendencies of textile. Textile appeared to be a revolutionary art – it distances from craft and applied arts often and obeys to unexpected methods of language, such as sound installations or 3D objects.
This year the biennial pierced the phenomena of contemporary textile change in three dimensions of look and horizon and presented wide, narrow and young examination of creation. The narrow horizon of the event is represented by three expositions from Brazil, South African Republic and Great Britain presented at Kaunas Picture Gallery. Paths of "Wide Examination" are defined at M. Žilinskas Art Gallery. Meanwhile, "Young Examination" is the space of young artists which presently exists in the form of a documents archive.
Collections of works from SAR and Brazil share a common denominator - the exotic view, problems of the "third world", abundant manifestations of naïve, primitive creation related with the lack of professional art schools and traditions of textile. The African exposition "Skin on Skin" emphasises problems of the black continent the most and is exceptional by abundant use of beads and shreds. Several works were more original. Questions of identity are analysed in the video film "Her Room" directed by Leora Farber. The work "Mother and Child" by Walter Oltman woven from weightless wire reveals the greatest tragedy of Africa – HIV marks a child even in the mother's womb.
The Brazilian exposition appears to be shallow from the creative point of view. Perhaps the works of the artist of Lithuanian origin Claudio Kupstas are more interesting – he weaves traditional Lithuanian webbings but uses Brazilian inscriptions. Meanwhile the curators of Great Britain present an exposition called "Unpicked and Dismantled" in which photography, drawings, paintings (on canvas and body) and paper collages prevail. Despite this, the majority of authors maintain the associative relation with textile techniques: Catherine Bertola in her work "Anatomy", Amy Houghton in "Mary Croom Dress", Danica Maier who imitates needlepoint in paintings.
The exhibition "Wide Examination" open at M. Žilinskas Gallery is not limited by some particular concept as artistic impressions are broadcast by geographic and notional frequencies here. Vladas Oržekauskas became exceptional as a male artist who created a work sensitive to feminist ideas "Lady without Unicorn". The work questions "What does it mean to live in the present time?". Silja Puranen (Finland) affects the spectator via impulses of sympathy, horror and oppressiveness spread by the work "Rose".
The dimensional textile "Parenthetical Pleasure" of Tania Candiani del Real (Mexico) dominates in the hall of the gallery. Rytis Naglis Baltušnikas will soon persuade the audience that works created from enamel are immortal. The artwork seen for a hundred of times was reborn as a sewing and gained new meanings in a golden frame ("Give me/Take it"). The work of Agnietė Janušaitė "Sterile" locks attention – it is a series of transparent and thin gauze strips in which prominent leaders of several states are pictured.
There are many exhibits in the exhibition which attract the eye for a longer while due to aesthetical reasons, technique or an interesting social message. Still, there are works the exposition of which is hardly justifiable in the event of such level, e.g., the installation of Hilde K. Frantzen "My Name Hilde and I am 4", collection of uniforms of Brett Alexander "Playing with Puppets", etc.
In conclusion, the biennial has shown that no form thresholds are valid for it. It also testifies about the symptom typical of all present creation – methods of expression are limitless; however, much less authentic, actual and gripping art is created. This minority triumphed in the biennial this year – paradox-like, social works stimulating thinking in which technical mastery, aesthetics, hot and penetrating thought was combined.