When you are the music 1496
Interview by Elvina Baužaitė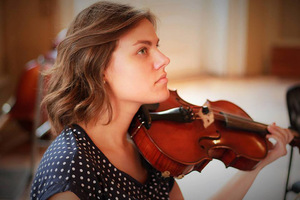 In brief: Kaunas Juozas Naujalis music gymnasium completed a year ago; a year spent at the Lithuanian Academy of Music and Theatre...But these are only the references to educational institutions. Most likely, the musical experiences were the biggest lesson for the violist Kristina Anusevičiūtė, real challenges and tests, but also the biggest gift of the last school year. The young musical personality speaks about the gift of the talent as the fruition of life, when you touch the strings of the instrument as if they were the tenderest threads of the soul and then you hear the chords sound...
It is a rare gift to be playing at the Kremerata Baltica Orchestra. I wanted to know what the young violist has experienced with this orchestra and whether she made any discoveries.
Kristina Anusevičiūtė says, "I have had the pleasure to play with more than one collective, but this one is truly exceptional. All the members are very passionate, everyone is important and they know it," she adds, "Orchestra is very enterprising and boldly takes on variations. There are works during which we have to sing and stomp our feet...the violinist might take a wind instrument and start playing and cellist might play drums. We come up with the elements that would be unexpected, that both we and the audience would be surprised."
I was interested to know what the musician thinks of her studies at the Music Academy. Kristina Anusevičiūtė says that she values the studies as something that will provide her with the higher education. "I do not think so about the specialty classes, but certainly there are things that are necessary. When I think about the performing art classes all I can say is - wonderful! I don't even know how else to call it; I'm just impressed and fascinated. All this brings a lot of benefits. Really, I am very happy studying here."
Kristina Anusevičiūtė also tells how she discovered her instrument, "Again, it was interesting. Of course, I started to play the violin. And I felt like switching to viola when I realized what the difference between them is. It was quite early, probably after a few years of playing the violin. Once I heard the sound of viola and I was fascinated with its timbre and then I realized I wanted to play this instrument. My physique fit the task - I am tall, strong, with long hands and that is important because viola is bigger and you need strength to play it."