Orchestra of impressions 0
Tautvydas Bajarkevičius
About the contemporary music festival Gaida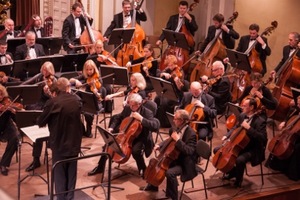 In brief: The author resolved to watch almost the entire programme of the festival Gaida this year and felt its festive solemnity. This feeling was reinforced by the programme full of large volume works, monumental forms and outstanding personalities. The impression was created that this festival was exceptional by these features as compared to previous festivals.
One of the main themes of Gaida festival of this year was orchestra, which determined the monumentality of form and programme. The festival offered a number of innovative compositional solutions and unconventional performance techniques. They questioned the usual stereotype of relating orchestra to the conservative tradition of music.
Among other concerts that offered new methods of listening to music, the author mentions the concert of SPECTRA Ensemble at the Contemporary Art Centre Hall, the concert of the star of the festival Hanna Kulenty.
The author was glad to see the famous composer Philip Glass in a couple of steps from oneself live. The composer and his legendary collective performed the earlier repertoire of Glass in the three-hour fiesta in Gaida festival.
A similar feeling of recognising an unrepeatable event could appear to admirers of the composer and director Heiner Goebbels who gathered to the mono-performance Max Black directed by him. The main and only role of a mad scientist was performed by the actor André Wilms in virtuoso manner. The performance created impulsive, intensive and visionary experiences and rendered the drama of a contemporary genius persuasively.
The concert of St. Christopher Chamber Orchesta at St. Catherine Church warmed listeners by the cosy and chamber atmosphere. The music piece of Onutė Narbutaitė Was there a butterfly? left an impression on the author of the article. The final accent, the performance of the festival guest Hanna Kulenty GG Concerto sounded in virtuoso, expressive, gothic and hypnotic notes.
The concert of the percussion trio from Australia Speak Percussion and the laser and music show of Robert Henke Lumiére could please the audience that was not so academic.
Thus, the author ends that the festival of this year Gaida deserves all laurels for the performers, composers and music it offered to listeners.