DaGamba: classics differently 0
Justina Paltanavičiūtė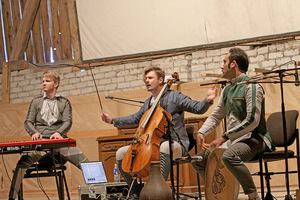 In brief: The music of DaGamba consists of original compositions based on the classic melodies, thus the famous works take on a whole new form. The most interesting thing is that while listening to DaGamba you feel as if you are attending a rock concert. Sometimes you even feel surprised when you remember that there are no electric guitars or drums on the stage, only two cellos, keyboard and Iranian percussion.
You were able to hear DaGamba on the evening of the June 12th in one of Pažaislis Music Festival concerts at Babtynas-Žemaitkiemis manor. Latvians started the concert with a famous Rachmaninoff's Prelude in C sharp minor Op. 3, No 2. First the audience heard the original version of the piece, later it intertwined with the sounds of rock music and after that you were able to hear only the intonations of the prelude, lost in a vibrant and vital sound of music. The public was overtaken by the youthful energy of DaGamba from the first sounds.
Blending classical and popular music in a postmodern era happens quite often, but all the performers do it in their own way. It is quite boring when classical melodies are simply accompanied by electric guitars, energetic drum rhythms and the like. DaGamba version is not that primitive.
However, it is a pity that they only played very well-known classical melodies that can even be called classical pop, since they can be recognized not only by a musical connoisseur but also by an ordinary person. Although, perhaps this was exactly what DaGamba members were aiming for.
The audience had to guess what piece was being performed, because there were no leaflets with the program of the concert. The performers were convinced that the audience had the leaflets, thus they would not always announce the next piece. And that is a pity, because DaGamba members have a really good sense of humor which is reflected in the titles of their compositions. For example, they renamed Mozart's Lacrimosa into Paranoid Amadeus and Prokofiev's Dance of the Knights into Prokofiev the Knight Rider, because that name reminded them of the well-known TV show Knight Rider, the musical theme of which they also used in the piece.