21st Pažaislis Music Festival final concert. What is not music? 0
Enrika Striogaitė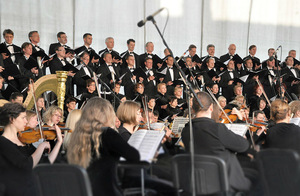 In brief: After the announcement of the 21st Pažaislis Music Festival final concert, when pianist Petras Geniušas started walking towards the stage together with conductor Petras Bingelis, silent music was already playing. Elegance, repose, inner culture and simplicity - pianist's first chords started with his truly royal steps that you cannot learn or perform.
While many performers learn to perform sincerity when playing - a face contorted by ecstasy, the sight of which often makes one uncomfortable - P. Geniušas does not act. We (the listeners) see that and later also hear it (eyes are as important for us as ears). I don't need to add that after George Gershwin's Rhapsody in Blue (conductor P. Bingelis) pianist soon had to return to the stage and play some more.
The second part of the final concert featured Kaunas State Choir (artistic director and principal conductor P. Bingelis), which together with Kaunas City Symphony Orchestra (leader Algimantas Treikauskas), mezzo-soprano Jurgita Adomonytė and vocalist Indrė Jurgelevičiūtė performed a contemporary Welsh composer Karl Jenkin's piece Stabat Mater. By the way, many of the listeners could not hide their confusion - why will the final concert feature a sad piece about pain and suffering?
This question was best answered by Kaunas State Choir singer Rimantas Klevečka, "The text sung by the choir in multiple languages (Latin, Greek, Aramaic, Hebrew, ancient Arabic and English) speaks not only of separation, farewell and pain but also about the meaningfulness of suffering, the undying hope of resurrection and eternity." It is impossible to avoid pain in life, but it can be changed to soul cleansing component needed for spiritual growth.
Thus, the composition for choir, orchestra and soloists combines the musical traditions of the West and Middle East. The words of one of the most emotional medieval liturgical hymns in this piece are complemented with traditional oriental instruments, ingeniously combining traditional choir, typical to classics, orchestra, soloists and elements of popular music.