Performance "YOLO" – alarm for our sleeping consciousness 0
Ieva Tumanovičiūtė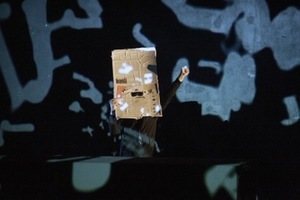 In brief: What would YOU do if you could live only as long as the match is burning? This is the question given by the creators of the performance "YOLO" to the audience which gathered in the Small Hall of the Lithuanian National Drama Theatre on September 6.
The Lithuanian Academy of Music and Theatre, Utopia theatre and the Lithuanian National Drama Theatre cooperated in the preparation of the performance of the student Povilas Makauskas of the 3rd year direction course of LMTA headed by Doc. Gintaras Varnas. Before the premiere the audience was introduced to unknown young artists and their work – a thorough article of the theatre critic D.Šabasevičienė was published in several publications. Also, an interview with the director, author and artist P.Makauskas was announced.
"Wake up as soon as possible, if you do it now, perhaps it will not be too late," the work "YOLO" states. The creators of the performance are young people who belong to the generation that grew up in independent Lithuania which has read about wars, political revolutions and crises only in history books. P.Makauskas brings up an important problem about which we do not think: the present-day man has an erroneous relation with history and the present very often. As a result, a person forgets that he is part of history that takes place now. It is not often that these questions are asked: In what history do I live? What happens around us? What will be next? And most importantly: how do I behave in the confrontation with a historical event?
Therefore, the performance "YOLO" is an important event in Lithuanian theatre for sure having in mind the original and influential artistic form of the work and the actual theme. "YOLO" was presented to the audience just in time when we still have hope that the woken-up consciousness will defeat the prevailing indifference which allows the manifestation of mass violence. This is why it is anticipated that the performance will be shown in Lithuania and abroad actively. The sketch of the performance was shown successfully in the puppets and objects festival Die-Wo-Spielen in Stuttgart; it will participate in Riga festival "Patriarch's Autumn" this October.