"Cosmos +" = theatre + science 0
Deimantė Dementavičiūtė-Stankuvienė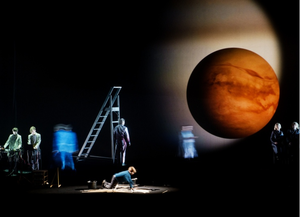 In brief: A special premiere was presented in Vilnius – the joint work of the Danish group Hotel Pro Forma and Lithuanian National Drama Theatre "Cosmos+". The author has heard a lot about the Danish theatre Hotel Pro Forma and video recordings of its performance have left an impression on her. Also, the theme of cosmos explored in the performance intrigued due to the personal interest in secrets of cosmos. The exceptional cosmic reality was created on the stage by the founder of the theatre Hotel Pro Forma, director Kirsten Dehlholm.
The story of mystery of cosmos is told on the stage in the performance. The performance is dedicated to children from the age of nine years but could appear rather interesting for grown-ups too. The performance is not too childish, contrary to traditional performances dedicated to children. Still, complicated things are told in a simple manner and language understandable to the young viewer.
Interest in cosmos, mathematics and physics is encouraged by the possibility to identify oneself with the main character of the performance, boy Tom7 (Jurgis Benys). Any boy could be Tom7 as he appears and behaves very naturally and his presence on the stage can hardly be called acting. It seems that Jurgis Benys is simply himself.
The first plan of the stage is given to children, who are the most important characters. Both sides of the stage are zones of two technical engineers (Elzė Gudavičiūtė and Paulius Tamolė), where they seem and behave as cosmonauts flying in a spaceship. An astronomer (Vytautas Rumšas), mathematician (Remigijus Bučius), 2 philosophers (Vaiva Mainelytė, Ramutis Rimeikis) and 2 physicists (Jolanta Dapkūnaitė, Rasa Rapalytė) perform in the second plan of the stage. The actors are persuasive in their roles; although some shade of traditional psychological theatre may be felt, and it creates the contrast between acting and the whole of the modern performance.
The visual and musical parts of the performance were the most impressive.
"Cosmos+" is an exceptional performance for children and teenagers. Science and art is combined in it, secrets of cosmos that have been and have not yet been revealed are told in a lively and interesting manner. It is also important that the young spectators are addressed as grown-ups, as clever personalities able to understand complicated things, in the performance.
Photos by Dmitrijus Matvejevas