European Capital of Culture - an opportunity for Kaunas to change for the better 4
Austėja Masiokaitė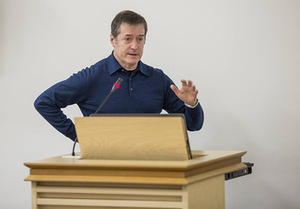 In brief: Kaunas, which has previously expressed its ambitions to become a part of UNESCO World Heritage is preparing to claim yet another prestigious name - to become a European Capital of Culture of 2022. And while the example of Vilnius brought out not only positive associations of this name in Lithuania, the consultants who help cities prepare their candidacy for the title of the European Capital of Culture met the representatives of Kaunas cultural institutions, on Tuesday and share some very different stories - when the year of European Capital of Culture ends not only with success, but leaves a long-term benefit to the city, that does not fade with the last event's fireworks.
According to Brit, Neil Peterson, who contributed to one of the projects of European Capital of Culture in Liverpool - the year of European Capital of Culture can help the city overcome negative stereotypes, attract a lot of tourists and most importantly - teach the citizens to fall in love again with the place they live in.
Together with representatives of Kaunas cultural institutions and a colleague from Germany Hanns Dietrich Schmidt he discusses the conditions needed to make this a reality. According to the consultants, cities that become the most successful are the ones that use the European Capital of Culture as an opportunity to change for the better. This initiative, according to the guests, is especially suitable for this, because it provides more opportunities to economically weaker cities, or the ones that are in a complex situation. We talked about N. Peterson about Kaunas, Liverpool, European Capital of Culture and possibilities of this initiative.
"If I was responsible for this project, firstly, I would start looking for places that would be suitable for something really special. I would like to look at the current cultural program. Kaunas Biennale is a good example to think about how this event could expand, to invite more types of art. Another interesting aspect is how to make use of the river. We tried to do the same in Liverpool, not only during the cultural capital program, but in the city strategies, because we wanted the city to join with the water again. I would also like to look at the people of Kaunas and understand what would make them happy, I would try to create a program that would include them. Kaunas story could be connected to being a proud Lithuanian city. How to discover that identity? Maybe through a basketball team - something that people feel a connection with. This is one of the positive aspects of European Capital of Culture - an ability to create a story which affects local people and help them rediscover the intimacy with their city," said N. Peterson.
Kaunas is trying to become a UNESCO world heritage site because of its interwar period architecture. According to N. Peterson, as of now, it would be wiser to focus on the European Capital of Culture, since the application process has started, but there would be nothing wrong, if at the same time people would be thinking about the heritage arguments. I believe it is possible for Kaunas to become a European Capital of Culture and later a part of UNESCO which would mean a permanent status. Some buildings here has left a huge impression on me. Architecture in Kaunas seems to be significantly different from other Baltic countries, you can find a strong European dimension here.