Short prose trolleybus journey 1
Vilija Virkutytė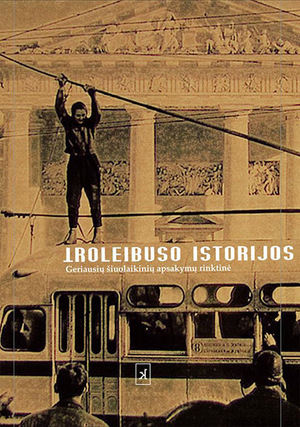 In brief: Anthology Trolleybus Stories (Trolleybus Stories, 2014, Kaunas: Kitos Knygos publishing house) has indeed reached its goal - it exposed the myth that short Lithuanian prose is lyrical and provincial and that writers are poor storytellers. The travel itinerary composed of fifteen short stories, helped to make sure that Lithuanian literature can be urban, intriguing and full of humor and imagination.
The editor, Laurynas Katkus selected short stories written over the last three decades that are linked by urban environment, strange, fantastic and grisly events and also wit. It was important for L. Katkus for all the stories to be characterized by an intriguing story. In addition, the compiler of the anthology was concerned with how short Lithuanian prose conveys the meeting with the other, "It is not only an individual person or person as a social type; it is a mood of the street and the city and a certain residential or historical time" (p. 10). Most commonly that other is a city, acting like a live organism, with its own laws of life.
It should be noted that this anthology's compiler's words and the book itself looks like a manifesto. Already the cover of the book reveals a certain programed conviction, "Clogs, birches and pure love for the native land? No! Lithuanian literature has long stepped out of the clogs, put on some sneakers and went on to check on the noisy city streets."
The most important thing in the book Trolleybus Stories is the urban, city environment symbolized by the trolleybus. It not only connects the city's neighborhoods, but also attracts very different people. By the way, book cover is decorated with Antanas Sutkus photograph of trolleybus and people in the urban background. In J. Kunčinas short story "Hello, Mr. Enrike!" we can find a very apt idea, which illustrates that the most important environment in the anthology is urban, not rural, "We sat until the first - no, not roosters - trolleybuses." (p. 45).
The manifesto part of it is that L. Katkus and the authors of short stories with this anthology oppose the destruction of trolleybuses. Therefore, the book sends not only a cultural but a political message as well. In the words of L. Katkus, "Trolleybus is not only an environmentally friendly and modern vehicle for transportation and best adapted to the Lithuanian cities of the current size; stopping it would cause a serious damage for the cityscape of Kaunas and Vilnius" (p. 12). And indeed - the major Lithuanian cities can hardly be imagined without trolleybuses, their routes and schedules.