Emilija Visockaitė, "We should start a new press era" 1
Prepared by Jurga Tumasonytė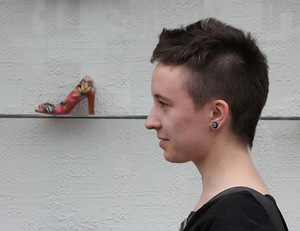 In brief: Emilija Visockaitė is a representative of younger generation, actively participating in a cultural field and currently working in the Literatūra ir Menas (Literature and Art) magazine. We talked with Emilija about the situation of today's cultural press and the accents describing her own generation and personal experiences.
Emilija Visockytė is currently working in the cultural magazine Literature and Art and I was wondering whether her expectations for a literary magazine has changed since the time spent working there.
She says: "I have long been thinking of creating my own publication - maybe only about music (utopia born while reading a great British magazine Classic Rock), maybe about culture, subcultures or society, but for that you need like-minded people. In Literature and Art I have a complete creative freedom, which is constrained only by financial possibilities and - especially - conservative, historical trail which Literature and Art probably will never be able to shake off (we are still a part of Writers Association). Now the whole office wants to build a modern magazine, but I think that the only way to do it is to completely close all the cultural publications and start a new press era somewhere underground."
That is a bold idea. I was interested to know how she imagines a new era in the press. Emilija Visockytė says she would take up some kind of strictly anti-capitalist actions, "I would go back to zines, self-publishing, black and white ugly press, which would let the eyes rest from the internet advertising. All the texts in it would be scandalously critical, unrestrained with the nonsense of political correctness. I think we could do this for a year (with my imagined friends), simply for our pleasure, and then, as it always happens with all the good things we would sell out."
Thinking about the issues of contemporary Lithuanian literature E. Visockytė is trying not to get irritated. According to her, "I am disappointed because new names in Lithuanian literature do not emerge that often. Sometimes it seems that if anyone is publishing Lithuanian books - it must be the members of the Writers' Association. One dominant institution is not good, but it does not irritate me, I would simply like to see more independent talented authors, from which you would not know what to expect. My latest literary discovery is prose writer and sculptor - Mykolas Sauka. I hope he will never join any association.
When I asked Emilija a question that has nothing to do with literature - how does she imagine an ideal life of Emilija Visockaitė - she said that she used to fantasize about the ideal life in school. "Now, in general, I do not fantasize nor dream much. Over the past five years, I learned to enjoy the day and small things. "Ideal" is quite a scary word, but I can easily admit that I am happy."