Seven nominations, or George Orwell and space 0
Neringa Krikščiūnaitė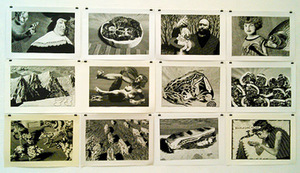 In brief: Nominations are always fun. To receive them and to observe what they are being given for. The first Kaunas International Graphics Biennial "Culture Line" that takes place at the Mykolas Žilinskas Art Gallery and Kaunas Picture Gallery, also could not do without nominations. When so many authors from different countries are presented with their works rendered in diverse graphics techniques, nominations help in arranging them.
Subjective nominations for the authors whose graphics works are exhibited at the Mykolas Žilinskas Art Gallery:
Love of Albrecth Durer's "Melancholia" and Salvador Dali's "Anthropomorphic Chest" goes to the Polish graphic artist Kacper Bożek. Two series of artist's works carry very precise references to the works of mentioned artists. One work portrays a lady with a face of a geometric figure and her gorgeous dress is made out of drawers, out of which trees are growing together with clocks, church towers, musical instruments, and swords, rats carrying plague, scales, globes and skulls.
The discovery of the origins of cosmogony graphics goes to the Polish artist Krzysztof Tomalski. His works are dominated by the creations of the universe, cosmogony theories and their examination through one's own point of view. We will not find chaos in his works, without which, it seems, space is unimaginable. Everything in K. Tomalski works is calm and harmonious - every planetary change depicted slowly happens in front of your eyes.
Showing of painfully recognizable objects goes to the graphic artist from Ukraine Olesia Dzhuraeva. She depicts objects, which you can easily find in your environment, but artist steps back into the past a little and shows things that created that environment at the time.
Showing of unrecognizable objects goes to Błażej Ostoja Lniski from Poland. Artists presents a series of five graphic works, each of which depicts an anthropomorphic creature. At first glance it reminds you of the Rorschach test of symmetrical ink stains, but if you look closer, all these creatures created by the artist seem like they were made out of easily molded, malleable material.
The best curatorial decision adjusted goes to another Polish artist Henryk Ożóg. His works are displayed perfectly in one of the spaces of Žilinskas Art Gallery. They are three works that depict the face of the same man (very similar to the artist himself) - the only things that change are his smile and shadows.
Subjective nominations for the authors whose graphics works are exhibited at Kaunas Picture Gallery:
Graphical interpretation of George Orwell's worldview goes to Peeter Alik from Estonia. He exhibits thirteen same-sized works that reflect quite a few thoughts of George Orwell. Artist depicts a herd of pigs, which look like they are about to start speaking and say that all the animals are equal, but some more equal than others.
Learning an alphabet in a new way goes to Yurij Jakovenko from Belarus. His works are full of various mechanisms and complex constructions, but all these things are more complex than they seem. Artist reconstructs letters of the alphabet, giving them new meanings, even characters. His works are full of various faces, intertwined spirals and obscure creatures.
Photos by Neringa Krikščiūnaitė