Contemporary art created with traditional means 0
Deima Žuklytė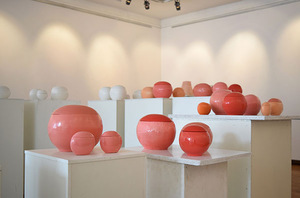 In brief: Exhibitions of two lecturers of the Vilnius Academy of Arts, Kaunas Faculty are taking place in Vilnius. It is the ceramics exhibition of A. Keturakienė "Her room" (at the gallery Akademija) and J. Aukštikalnytė-Varkulevičienė painting exhibition "Boundary portraits. Conversations" (at the Šv. Jono gatvė gallery). Even though, both artists are working with traditional techniques and remain within the boundaries of their art branches, the art they are creating is conceptual.
A. Keturakienė jubilee exhibition features a big installation made up of separate smaller parts. The parts of installation remind of cosmetic containers designed for beauty procedures - from really tiny perfume ones to the bigger ones to keep other feminine secrets. Their form is modern and aesthetic, like Apple company products - smooth, sleek, streamline and moreover, covered with a shiny glaze. Crockery are exhibited at the different height levels that create a lively and dynamic overall image.
Color plays an important role in her work, which covers a variety of pink, orange, white and gray nuances. As the artist says, while creating she uses two opposing elements: mathematics (composition is created by regularly setting objects in geometric lines) and nature (objects "blossom like the garden flowers, for example nasturtiums"). I would like to expand the comparison with flowers: white color of objects - is like an unfurled blossom, all the shades of pink - is an apogee, but the grey and black that come later is like an inevitable end of one cycle, which also mean the beginning of another
Perhaps the most important aspects of the installation as well as of the whole oeuvre of A. Keturakienė - is quantity and repetition. Because of them, objects do not attract attention to themselves, thus an artwork can be seen as a whole, recognizing its common characteristics. A. Keturakienė says she likes to experiments with the boundaries of art and craft. "Her room" installation is a great example of this claim, because, by being solid, object represents art, but if it was taken apart, it would lose its meaning and could be only a reflection of good craft.
Meanwhile, another exhibition of J. Aukštikalnytė-Varkulevičienė painting is also perfectly in line with the concept of contemporary art, since her works can be fully perceived only after the image is complemented with (con)text. Exhibition does not lack text - artist's experiences in communicating with the patients from the psychiatric hospitals, during their painting lessons are conveniently written on the walls in big letters. Artist's volunteering at the hospital - the starting point of the artwork is an integral part of the creative process and its final outcome.
Due to the sensitivity of the subject artist must possess tactfulness, a certain caution and an ability to pay attention to the person portrayed. J. Aukštikalnytė-Varkulevičienė finds an unexpected way to reconcile all this, creating portraits without their essential character trait - individuality. People's faces are not showed at all, therefore, it looks like smooth strokes are protecting the people portrayed from our gazes. As author rhetorically asks: "Can I paint and exhibit the portrait of a person if he lives outside the margins of the real world and hardly understands the contexts of public image display?" That is how a compromise is reached between ethics and desire to know the other and to develop and demonstrate his/hers public image.
Photographs by Deima Žuklytė