At the first graphics biennial - conversations with the past 0
Kristina Budrytė-Genevičė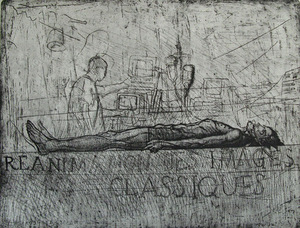 In brief: Graphic works of Lithuanian and foreign artists were being presented for a whole month in the first International Graphics Biennial "Culture Line" (March 26 - April 26). The biennial, which was held in two exhibition spaces of Kaunas (Picture Gallery and M. Žilinskas Art Gallery) posed some questions and provided with unexpected hopes.
The first International Graphics Biennial should start from the very beginning - felt the organizers and thus dedicated it to the etymology of graphics, meaning, that in this biennial the main condition was working with a classical graphic technique. Such works with a relevant content of today were not supposed to rebel against the new media or digital technologies, but quietly remind about their aura and the wonders of mastery.
Works of Lithuanian authors especially stand out with their improvised responses about the traces of the time that passed - sometimes in a very abstract way, and sometimes in the form of creative chronicler.
Matas Dūda, using the techniques of aquatint and dry needle, decides to capture all the small metal objects found at hand (in his workshop?). Claiming that they are "anything" author suddenly mystifies them (I will quote from this author's annotation of another exhibition "Defiantly speaking, in this context, the most accurate starting point is a printing press and anything that is possible to be printed can be a print. A print becomes an object by ridding itself of the role of a representing tool").
Rimvydas Kepežinskas through the similar graphic techniques (all works made in aquatint, mezzotint) enters associative spaces. He does not care about the trifles that are lying around, he is interested in far-extending, usually inaccessible memories, which he is able to bring closer with metaphors by hanging up the horizontal planes, by immersing objects into the muddy springs of beginning.
Greta Grendaitė started developing her series "Military tactics" in 2010 (intaglio: etching, photopolymer, collage). The series have clear definitions of cultural and political subjects.
Eglė Vertelkaitė also discusses with history and culture, sometimes "borrowing" contextual objects, such as historical photographs or a music sheet (or rather its nonentity) or a plaster head of Juno from the college days.
Among the works of colorful graphics we can notice Kristina Norvilaitė linocut on wood, which matures the everyday world of a girl / young woman / grown woman.
Aistė Ramūnaitė Linen reductions or, as she likes to call it - works created in a linen poisoning technique, rapidly suck a viewer into the vortex of colors and shapes.
Gabija Vidrinskaitė speaks about the mystical nature with cozy and chamber undertones. Her small, colorful and black and white, works, rendered in aquatint and etching techniques are like window scene motifs (all works "Untitled").
Kęstutis Vasiliūnas color block printing (wood carvings) occupy big areas not only because of their size, but also because of the abundance of images and eclectic: gaze slowly moves from the symbol of God to the thick advertising and back.
Edmundas Saladžius presented his latest color lithograph triptych. All works are drawn in an easy recognizable line of the artist: seemingly strong, straight and rigid, it optically deceives the eyes of a viewer and tangles such figurative postures that you become speechless.
Rolandas Rimkūnas series "Reanimated Classics" 1993–2007 (metal engravings, dry needle and etching technique), according to the author, are a kind of reproduction of different stages of his life "A minute of rest in the Soviet army, classic characters capitulating to commercial, cartoon characters, a fish, caught and eaten, a new life, encyclopedic human vanity, father's drawing, everyday routine."