Impressions that remain in the film hall 2
Narius Kairys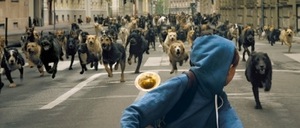 In brief: Differently from other Lithuanian film festivals, Kaunas International Film Festival, which started once as a civil action against the homogenisation of film industry according to the information of the festival organisers, could be associated with certain single memorable events rather than abundant film programme: the screening of the film of Apichatpong Weerasethakul "Uncle Boonmee Who Can Recall His Past Lives" or discussion with the director Béla Tarr.
After scanning through the programme of the 8th Kaunas International Film Festival (most of the films were shown once in every city), the author thought that the organisers hoped that interested and knowledgeable viewers would come to the screenings. That is they applied to individuals able to choose rather than the masses. However, it happed that the retrospective films of Miklós Jancsó were attended by about ten people in Skalvija cinema in Vilnius, a similar number of people gathered to films shown in the film hall of the Contemporary Film Centre.
Of course, it is very hard to find the golden middle of attendance and quality, and this question is not the most important. Most importantly, the organizers should give a question to themselves why this film festival is organised at all, what its future vision is.
The fact that essential changes take place inside of the festival, that attempts are made to form its identity anew, that the organizers are getting away from the competitive fight with other main Lithuanian film festivals is most probably testified by the much shorter programme of the festival of this year: in addition to the retrospective of the Hungarian classic Jancsó and the main programme, Ukrainian films were shown. The shorter programme is not a bad phenomenon by itself, it could be the chance to raise the level of the festival. However, did the 8th festival succeed to do this?