Visiting Kaunas wooden houses: a walk in Vaidoto Street 1
Asta Raškevičiūtė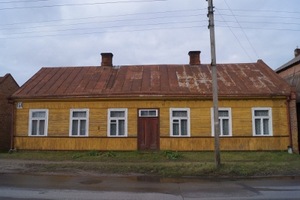 In brief: As one passes along Vaidoto Street in Panemunė, Kaunas, the eye is caught by various wooden houses built in the 20th century. These are small cottages and rather large houses of rented flats, buildings of a city inhabitant's house type, buildings of oblong plan, outhouse buildings further from the street. Some of them have been covered in plastic lags, others have been reconstructed, still others are forlorn and falling apart. There are some well-attended wooden houses that have not changed much since their erection. They make the main street of Panemunė look authentic and exceptional.
The name of Panemunė was first mentioned in written sources in 1559. The settlement grew until the second half of the 19th century, when the development of the township was changed by the construction of Kaunas Fortress. The township was joined with Kaunas in 1931 and called Higher Panemunė. Later Higher Panemunė was included into the list of resorts, certain land plots were formed which were filled with high-quality villas until 1935. In the interwar period about 30 shopping and servicing institutions operated in Vaidoto Street.
At the moment the majority of wooden houses of Vaidoto Street have been changed greatly; therefore, only several buildings may be identified according to archival data. A number of reconstructed or unattended houses are close to sinking to the ground. In the article the author reviews the general house construction tendencies in the street in the interwar period and describes more interesting examples of wooden architecture in this street of Kaunas.