Vanishing wooden Kaunas: houses of railwaymen 1
Rytis Mekiša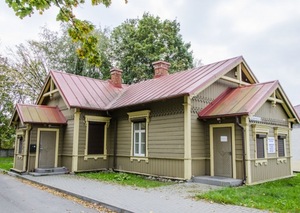 In brief: As the cycle of articles on Kaunas wooden architecture is continued, attention should be paid to one exceptional example of Kaunas wooden architecture – houses of railwaymen. Objects of architecture of this type are not abundant; therefore, they should be discussed separately. The aim of this article is to reveal the history of appearance of railwaymen's houses, their typical architectural forms, to present the usage and status. Uniqueness and exceptionality of these houses is presented to the reader.
Houses of railwaymen were constructed in Kaunas at the end of the 19th century after Kaunas Railway Station was built. One house usually contained 6-8 flats, but smaller houses are also frequent – the latter ones were dedicated to higher officers. Objects of the analysed type belonged to one infrastructure (Juozapavičiaus Ave., Tunelio St. and M. K. Čiurlionio St.), and they still form a unique space in Kaunas, which charms researchers of architecture, city guests and inhabitants.
16 objects of this type are listed in the database of Kaunas city wooden architecture www.archimede.lt. It should be mentioned that both wooden and brick houses of railwaymen were present; still, as the object of the article is wooden railwaymen's houses, brick houses will not be analysed further.
Railwaymen's houses stand out by their volume and decoration in the surroundings: the buildings are one-storeyed, of rectangular plan typically; wood carvings and window rims of Russian folk style are noticed. These decorations were matched with profiled joist ends of Swiss style. Other traditional elements of decor: segmentation of windows, carved window cornices, etc.
Presently railwaymen's houses are used for residential, commercial and railway infrastructure purposes. Not all of the houses have remained well, some of them have been reconstructed using unsuitable materials; therefore, the author speaks about good and bad examples of reconstruction in the article and expresses hope that good examples of preservation of such buildings will help to protect wooden Kaunas architecture from disappearance.