Search of Kaunas modern identity that started from the dream about UNESCO 0
Austėja Masiokaitė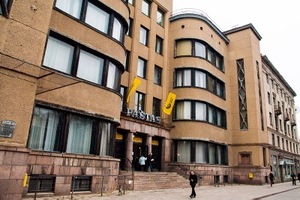 In brief: The Council of Kaunas City Municipality approved of the decision this summer to strive for an ambitious aim – to become a UNESCO city. Although it is a long process requiring finance and political will and it can prolong or disappear in the municipality clerks' drawers, one victory has already been achieved by it: Kaunas inter-war modern architecture has been named as the feature of Kaunas which we want to present to the world.
One of the arguments of the municipality why we should strive for the prestigious evaluation is the aim to draw funds and tourists as well as to proclaim the unique architecture of Kaunas. Researchers of Kaunas architecture notice that Kaunas inhabitants should also do much work: they should lift their heads from the pits in the streets to beautiful facades of buildings. Even though they are decrepit at the moment, the formation of the city identity based on interwar architecture may encourage many positive changes.
The historian of architecture Jolita Kančienė notices that this period in Kaunas architecture is the most favourable speaking about culture, architecture and history. The 19th century is equal but it may seem not so pleasant to us due to the occupation and the tsar's rule at the time. She emphasises that people should open their eyes and notice that inter-war spirit is still alive in Kaunas and that the surrounding buildings testify about it.
The architecture scientist Vaidas Petrulis draws attention to the more pragmatic aspect of information about the city heritage in the world. "Employed" architecture may bring financial return according to him. He emphasises that in order to be attractive, the city, Kaunas, should have attractive content. "Content will grant uniqueness and will attract international events," he states.
Meanwhile, the first step planned by Kaunas City Municipality on the way to UNESCO is the European Heritage Label. It should become clear next year whether Kaunas modern architecture called "Kaunas of 1919-1940: Gate of Lithuania to Europe Getting Modern" will get to the list of EHL. According to the head of the Cultural Heritage Department of Kaunas City Municipality Andrijana Filinaitė, interest in the application and request for specifications are positive signs. According to her, by striving for EHL and UNESCO in future, the municipality believes that it is possible to revive the wish of Lithuanian inhabitants to take interest in history and culture of Lithuania and Europe.
Photos by Austėja Masiokaitė