About the orchestration in architecture 0
Interview by Jurga Tumasonytė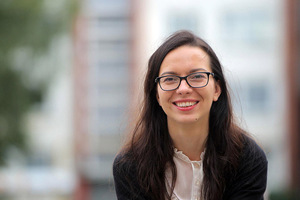 In brief: Rūta Barisaitė is a young architect based in Kaunas. After graduating from Vilnius Gediminas Technical University, for several years R. Barisaitė worked at the firm of architects G. Natkevičius and Partners and currently she is developing homes for people individually. She describes her generation as the "youngest of those who used to record favorite songs on cassettes and the oldest of those who no longer know Russian language." We talk about memories, contemporary architecture and the ledges of the hometown.
I was wondering where the architect grew up in Kaunas and what places she frequents now. Rūta Barisaitė answers, "I grew up in Žaliakalnis, next to the Zoo and Kaunas University of Technology (KTU) campus. University meadows where our playground - my childhood was surrounded by greenery.
Now I love taking a walk in Laisvės Avenue and the Old Town. When I have more time I take a walk in Nemunas quay, especially if the day is sunny. I love Putvinskis street and the old Žaliakalnis funicular."
The architect adds, "As an architect, I first associate Kaunas with interwar modernism. I have also heard many "first hand" stories about the interwar and post war life in Kaunas from my family. Interwar is a kind of "golden age" for Lithuania. There were more of these "golden ages", only we no longer have a close connection with them - they happened long time ago and the people who could tell the stories of those times, or the ones who had heard them first hand are long gone."
I was interested to hear what architectural processes in Lithuania make Rūta Barisaitė happy and inspire her. The architect says, "Architects are some of the most social people I know. Public institution Architectural Foundation events are amazing. They are dedicated for both architects and public's architectural education. They consist of lecture series, traveling architecture workshops, during which public places of small towns are revived by volunteer architects together with local children and youth; there is also an open architecture weekend Open House Vilnius and many others."
I inquired whether Rūta Barisaitė sees any ongoing problems in the architectural discourse of Kaunas. The architect explains, "Once, during a conversation with friends about the current architectural processes we joked that the future generation's architecture will be called "the lowest cost architectural style." Kaunas in this context is no exception. I would love for the public to be stricter about aesthetics and architectural quality. Of course, it is very much related to the architectural literacy."
Interview series with the young artists of Kaunas