Between the mark and image: diversity at the Sphinx exhibition "Revival" 0
Gabrielė Kuizinaitė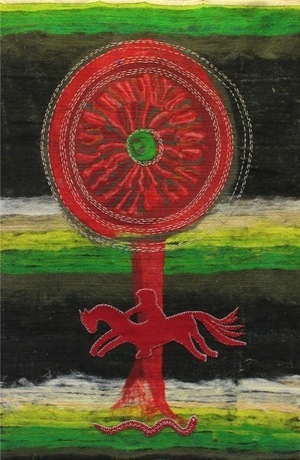 In brief: For twenty years, every spring, Kaunas artists' club Art Wings and Kaunas architects' and artists' club Sphinx organize exhibitions of Kaunas artists' works. The jubilee exhibition "Revival" feature works of artists of various generations, representing different fields of art.
Every year this exhibition is organized at the same time. It is framed by two public holidays - February 16th and March 11th. Works featured at the exhibition are created in 2014-2015. "Revival" exhibition is a great opportunity to get acquainted with the currently prevailing trends of artistic creation, to see the latest works created by artists.
Lithuanian national theme, history motifs are very common in the works of many participants of the exhibition. Battle of Grunwald, Donelaitis "Year" stories and folk narratives are quite strong in paintings, graphic and textile works. The stylization of Lithuanian folk theme is quite vivid in the works of Antanas Andziulis and well-known textile artist Zinaida Dargienė. Their works stand out with their decorativeness, harmonious geometric shapes and their ethnic, color symbolism.
Stylized Battle of Grunwald dominates the works of Gintautas Vaičys. They were created to commemorate the 600 year anniversary of Grunwald. Blue colored abstractions create a rather emotional allusion of a historical topic. Exhibition also features a painting of traditionally painted Battle of Grunwald by Laima Tubelytė-Kriukelienė.
Another semantic thread of the exhibition - a religious motif, common in many artists' works. Leonas Strioga traditional, cozy angels, as if axed in one fell swoop, enchants the visitors. Stylized sculptures of pensive Christ are presented by Viktoras Žilinskas. Stasys Pūtvis' paintings are dominated by stylized figures of angels that charm with their lyrical abstraction and blue colored semantics and statics. Meanwhile, works of Raimundas Majauskas that record Lithuanian calendar holidays and their symbolism, on the contrary - fascinate with their expressive dynamics; the abundance of colors, figures and brush strokes.
It is hard to mention all the authors in a brief review that is why I have focused on the key themes of the exhibition. On the event that took place on the 6th of March, the organizers and most outstanding artists were awarded with diplomas. The awards were given by the chairman of Lithuanian Artists' Association, Kaunas branch, Gintautas Vaičys.
Photos by Gabrielė Kuizinaitė