The rarely seen paintings by R. Staniūnienė 1
Kristina Budrytė-Genevičė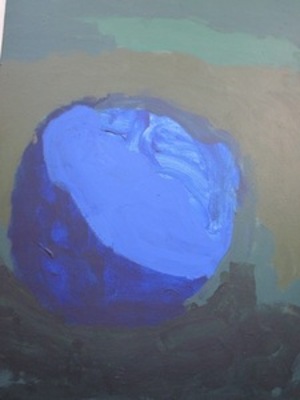 In brief: An exhibition of paintings of Rasa Staniūnienė (b. 1967) called "Nature - Our Home" was open at Kaunas Aukso Pjūvis gallery at the end of the year 2014. As the artist organises exhibitions rather seldom, the author analyses her works in the article.
Nothing is separate in Rasa Staniūnienė's paintings. Different colors, forms, abstract blots and various narratives come into contact in her works. One small plane accommodates the observation of a specific nitty-gritty and the general synthesis of the world.
R. Staniūnienė was not only painting all the time. When she was in her last year of university (she studied at Vilnius Academy of Arts, Department of Fine Arts in 1985–1991) she participated in quite a few art projects in Vilnius: "Action for peace" - where walls of the barricades were painted close to the Lithuanian Parliament; a site-specific project in the National M. Mažvydas Library. Until 1995 she organized exhibitions of her paintings, as well as, various art installations in Lithuania and abroad.
When a young artist was carrying out a site-specific project "Stone Powder" (Toronto, Ontario, Canada) she go into a big accident after which she remained disabled. Despite that R. Staniūnienė did not stop thinking creatively, and now, after teaching her hand how to hold a brush once more, she continues to paint intensively.
Although the artist draws and paints almost every day but, as far as the author has witnessed, her exhibitions are always small. Her paintings share a common cycle - motifs of nature in various seasons which barely fit into a small, rectangular format. The author realized later that the artist chose the specific format because it was easier to paint: it was more convenient to keep the unified look and a preferred mood. R. Staniūnienė got used to the canvas of that size, she mastered it and now exploits it for her painting purposes.
The painter has her own motifs of color and strange, barely recognizable forms. They make it easier to decipher the metaphors of visible nature and hidden thought. The author does not even try to look at the object that interests her from a perspective (peonies, lake, jelly-fish and etc.), she accepts them and remembers them as she saw them for the first time - surprisingly and attractively, weirdly and funnily or scarily, elusively and never realistically.