Following the footsteps of the Lithuanian Doré in Kaunas 0
Marius Vyšniauskas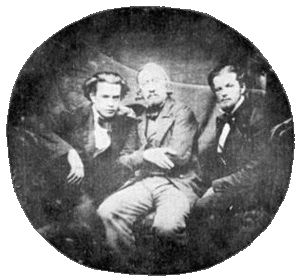 The fate of the prominent Lithuanian painter, graphic artist and a participant in the January Uprising - Elvyras Mykolas Andriolis (1836–1893) is inextricably linked to France. In historiography he is often named a Lithuanian Gustave Doré (1832–1883), while doing so he is compared to a famous French graphic artist, illustrator and sculptor whose artistic works decorate the world famous literature.
According to the sources, the painter's father Pranciškus Andriolis (1794–1861) was born in the Northern Italy; he had served in Napoleon's (Napoléon Bonaparte, 1769–1821) army as a captain and while fleeing Moscow (1812) he was captured by Russians. After his release in 1818 he arrived to Vilnius where he started to collaborate with the publication "Kurier Litewski." First he was working as a tailor and then became famous as a talented artist. He had married a noblewoman Petronėlė Gosnievska from Švenčioniai region, Kuktiškės district.
According to Polish historiography E. M. Andriolis was the fourth of five children, born in Vilnius on the 2nd of November on 1836. He first studied in Vilnius Gymnasium, where after 7 classes he graduated with a gold medal. He had also studied painting with the famous painter K. Ruseckas at the Vilnius Institute of Nobility.
In 1855, the future artist left for Moscow where, by the request of his parents, he was to study medicine together with his brother Erminijus. After he had finished the course in anatomy, Andriolis dropped out (against his parents' will) and moved to Moscow School of Drawing and Sculpture. After studying at the school, he moved to St. Petersburg, where he was awarded with a diploma from the Art Academy in 1857. In 1859 he left to the Western Europe to improve his skills. He visited London, Paris; studied in Saint Lukas Academy in Rome, which was graduated by many most famous Lithuanian painters.
What is E. M. Andriolis' connection to Kaunas? We can say that the city has stored the biggest amount of his religious-themed works. Works from Kaunas Cathedral where exhibited in Warsaw after the artist passed away in 1893-1894. The reviewer of a weekly newspaper "Kraj" described Andriolis' works "The largest of all the canvases depicts Christ and the Apostles in the sea. The composition is painted in a decorative way and calculations were made while looking at it from a great distance. All the paintings are painted in an Old Italian school style and, even though they are not paving any new roads for religious-themed painting, the artist who had created them is of a real talent."
Following the further path of E. M. Andriolis, it is worth stopping by the portrait of Juzefa Liubič-Zaleskytė exhibited at the National M. K. Čiurlionis Museum. This painting donated to the museum by J. Liubič-Zaleskytė (1858–1940) herself in 1925, decorates the exhibition and showcases the Lithuanian painting before the uprising.
In the end, it is important to note that the works by this artist provide a kind of novelty to Lithuanian art by infusing new currents into a rather static river of art.