Falling meteorites and sub-consciousness 0
Neringa Krikščiūnaitė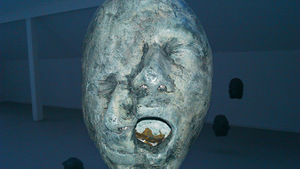 In brief: The exhibition of Mindaugas Pridotkas "Self-portrait with Hands" expresses by its title what it will be about. It may be read as "self-portrait" made by hands and as information about the exhibition in which sculptures of self-portraits and hands are displayed. Both variants are intriguing.
Ceramic sculptural self-portraits of the artist "falling" from the ceiling, flying in the air or resting on the ground inconveniently on the third floor of Meno Parkas gallery give birth to different reactions and associations. They look like meteorites, they make the viewer feel like in a shopping centre, where one chooses emotions instead of goods, or like in one's sub-consciousness with its smothered demons.
The works displayed in the exhibition do not have separate titles, all this is "self-portrait with hands". Knowing how the artist looks like, one may search for similarity with these artificial faces. All works are full of emotions. Ceramic hands emerging from walls or the floor are also reaching for something. Looking from the aside, the general view creates the impression of a rising man – as if he is imprisoned, immured into the floor. Therefore, the motif of liberation and running is evident in the exhibition. Figures reaching for physical and spiritual liberation express pain and unwillingness to stay where they are.
M. Pridotkas is a graduate of Vilnius Academy of Arts, Kaunas Faculty, specialty of applied ceramics (Master degree, 2004). From 2007 the artist is a member of the Lithuanian Artists' Association. His installation "Hands" (2012) is well known in the art world.
Photos by N.Krikščiūnaitė