How are you, artist? I am painting! 0
Neringa Krikščiūnaitė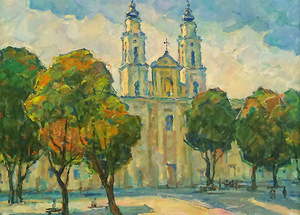 In brief: The exhibition dedicated to the 90th birth anniversary of the artist Vladimiras Kasatkinas greets us with a warm reminder "How are you, artist? Call your grandfather..." at Kaunas gallery Meno Parkas. It is a close and cozy approach to the painter V. Kasatkinas' works as well as the life of this talented man.
Viewer participation is woven into the exhibition. Every visitor can write greetings to their grandparents on the see-through plastic board. Before the exhibition the board was filled with a few sincere memories about grandparents, so bringing in the visitors into this, really paid off.
Moving from the exhibition design to art works, the author divides works into two groups. In the first one, there are paintings where V. Kasatkinas depicts female portraits and the second one - much larger - is landscapes. Women painted by the artist calmly look with their deep eyes, they seem thoughtful. Artist's painting style is a little rough, brush strokes are wide and sometimes small. But the artist moves very well from rough painting to the soft one. Such works as "A Portrait of Wife and Daughter" (1976) and "Portrait of Wife" (1983) are painted in a way that they create the impression of lightness and fragility. Other portraits of women are rougher. The artist does not care much to convey the characters, he rather wants to experiment with color, to catch the fall of drapes and crinkles of clothes.
Through his landscapes, V. Kasatkinas conveys the moods of nature and their effects on architecture. Dark and bright colors are not common for the artist - you will not find them in a natural environment as well. Even the brightest building in daylight becomes less bright, less severe. The painter noticed that - so that is why his canvases are dominated by soft, pastel colors. In some places, cruder brush strokes create a stronger mood and give more substance to it.
The artist himself sees the visitor off from his simulated workshop/exhibition - in front of you, while climbing down the stairs, there hangs a photograph of him, where the artist in sunglasses smiles cheerfully with his arms crossed, as if saying "Until the next time, colleague."