Landscape of watercolour biennial 1
Miglė Munderzbakaitė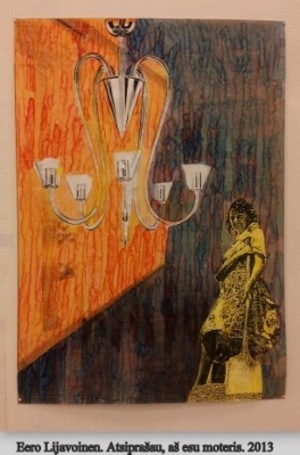 In brief: The conception chosen by the organisers of the watercolour biennial (head of the project – Eugenijus Nalevaika) was named as resonance. The laconic and rather abstract title of the exhibition "Resonance" interests and intrigues both participants of the exhibition and the organisers of the event. The most diverse technical possibilities of watercolour and the creative searches of a wide circle of artists using acrylic and oil painting techniques are presented in the 5th international watercolour biennial.
The main competitive exhibition "Resonance" of the biennial is open at Kaunas Picture Gallery of M. K. Čiurlionis Art Museum. Visitors of the exhibition are provided the possibility to get acquainted with works of 70 artists from Lithuania, France, Sweden, Germany, the Netherlands, etc.
According to the organisers of the event, the exhibition is colourful and interesting. Still, it creates the impression of "colourful chaos". It would not be a negative quality of the exhibition if it presented the technique of watercolour, revealed its vitality and energy. However, if the attempt is to show the individual relation of each artist with watercolour, it may be said that the aim has not been fully achieved: more attention should have been paid to the exposition of exhibits.
Despite the mentioned chaotic presentation of artworks in the exhibition, some prevailing tendencies, themes and plots may be noticed. Motifs of human figure predominate in realistic works of the watercolour biennial. Landscapes are abundant (although there is not much realism in them). Many still-lifes may be noticed in the exhibition. Female theme is explored in a number of the exhibition works, while other works encourage to dip into thought and memories. Reflections of religious themes may also be noticed in some of the exhibited artworks.
Photos by Miglė Munderzbakaitė