City and creative work – the main characters in the history of M.Mildažytė-Kulikauskienė 0
Kristina Budrytė-Genevičė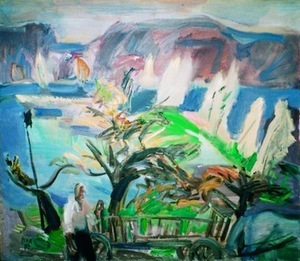 In Brief: Milda Mildažytė-Kulikauskienė (born 1937) is a museologist and artist who had published a number of books that hold great importance to Lithuanian art and history.
Milda Mildažytė-Kulikauskienė always wanted to draw, paint and to be called an artist but it has been so long since she got sucked in by the social activities and work in a museum that it is hard not to mention these achievements. While sharing her memories, artist who paints beautiful watercolors said, that she would be able to reach her studio only late in the evening after all the work – job in the museum, family matters, household work and gardening would fill a big part of the day. Big sense of responsibility and thoroughness helped her create other valuable works – she had put together books and catalogs that required decades of work and special knowledge. She was actively participating M. K. Čiurlionis association which, during the fight for Lithuanian independence was paramount in keeping National M. K. Čiurlionis Museum and its exhibits intact.
Artist writes about how different periods of political and historical events touched the city and its people. In this way her autobiography becomes an important link to city's history rather than an individual and hermetic world.
Project "History of the artist and the stages of Soviet Lithuania"