Kristina Budrytė-Genevičė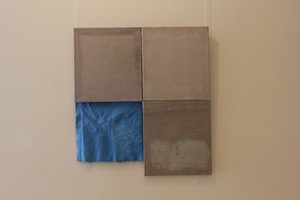 In brief: The exhibition "Here and There" of Jovita Aukštikalnytė-Varkulevičienė is open in Kaunas, at Antanas Žmuidzinavičius Memorial Museum (V.Putvinskio St. 64) until September 21.
The author of the article participated in the opening event of the exhibition and heard the short comments of the painter's friends: "Interesting", "Very good", "Different than previous ones".
During the presentation of the exhibition and later, when speaking with the artist, the thought appeared to the author about "a room of one's own" remembering the thoughts of Virginia Woolf in her "A Room of One's Own" that to be able to create one has to have one's own room and money.
The painter settled in the halls of A.Žmuidzinavičius Museum as in a private space as the exposition was created for as many as five days. All of the exhibited works were created this year, they were born from daily feelings while walking between Šančiai and Panemunė quarters.
The author goes from hall to hall and analyses the works of the artist which disclose the codes of daily life in an original manner.
Moments of the exhibition. Photos by Airida Rekštytė