FAREWELL TO THE SUMMER ALONG WITH G.PUCCINI'S MUSIC IN PAŽAISLIS 2
Justina Paltanavičiūtė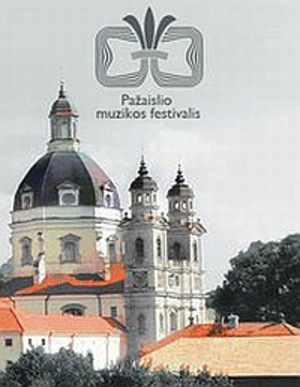 In brief: Summer festivals end with the change of weather and musical events move to traditional spaces – concert halls announcing the beginning of the cold season. The 16th Pažaislis Summer Festival was closed on August 28. Romantic mood was created by Pažaislis Monastery on a warm afternoon, and the ears of music lovers could enjoy the concert performance of the opera "La Rondine" (The Swallow") of Giacomo Puccini.
Solo parts were performed by a guest from the USA Elaine Alvarez as well as Lithuanians Edgaras Montvidas, Lauryna Bendžiūnaitė, Mindaugas Zimkus and Andrius Apšega. They performed together with Kaunas Symphony Orchestra conducted by Modestas Pitrėnas and Kaunas State Choir (art director and principal conductor – Petras Bingelis).
The opera "La Rondine" of the famous Italian composer G. Puccini is not so well known to music lovers as other stage works of this composer: "Madam Butterfly", "Tosca" or "La Boheme". The opera in three acts performed in Lithuania live for the first time sounded modestly and romantically, precisely and emotionally at the same time. Kaunas Symphony Orchestra charmed by its performance – it made the work chamber as it slightly lacked that wideness typical of G. Puccini's music. Still, there were many contrasts and colours – as many as there should have been.
The guest of Cuban origin from the USA Elaine Alvarez sang the part of Magda charmingly. Her beautiful, lyrical and mature voice timbre contrasted with the more playful Lauryna Bendžiūnaitė, who sang the part of Lisette. Male parts of the love triangle were sung by romantic but different Edgaras Montvidas (Ruggero) and Mindaugas Zimkus (Prunier). Also, one of the parts – Rambaldo – was entrusted to Andrius Apšega. Each of them performed their parts responsibly: although no action on the stage was present, the drama could be felt clearly.
Therefore, the psychological portraits of each character of the opera were very individual and outstanding during the concert in Pažaislis Monastery. Still, one could hear the comments of listeners that the long opus appeared slightly boring to the audience – the majority of people missed stage action.
Finally, although the premiere of the opera "La Rondine" closed Pažaislis Music Festival, one could not state that it generalised the entire festival of this year. All concerts were rather different, and this concert also differed a lot from others. Nonetheless, one may rejoice that the concert was very unexpected and interesting to serious music admirers by all aspects.