MISSION OF ŽIRKLIONIS – TO UNITE YOUNG MEN OF LETTERS 0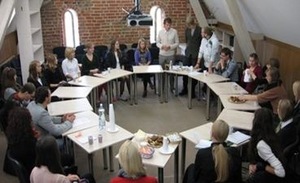 Lina Tumaitė
www.kamane.lt , 2010 09 27
In brief: Žirklionis, a group of young literature critics formed under the wing of the portal kamane.lt more than one year ago decided to expand its actions. At the end of September Žirklionis invited men of letters from Lithuanian universities and schools to a creative seminar organised at Vilnius University, Kaunas Humanitarian Faculty. The aim of the seminar was to unite young people creating in different styles or simply interested in literature from all places Lithuania. Participants from Vilnius, Kaunas, Alytus presented their works during the creative readings and shared their thoughts about literature in discussions.
The essence of the seminar was communication and exchange of ideas. "Reflection on contemporary literature lacks dialogue. Only closed anonymous communities exist, which do not want to get acquainted with each other. Events dedicated to dialogue help a creating man to look at himself/herself through eyes of other people and to feel that he/she is not the centre of the world, to feel the diversity of literature, which requires discussion," said Mindaugas Grigaitis, one of the organisers of the event and an active member of Žirklionis.
Extracts from the manifest written by Žirklionis after the seminar:
"Seeing that no squall will waken up the masters of our literature from dreams and that the individualism of young men of letters barricades off by walls of self-love, we feel that it is necessary to create a different community of men of letters. A contemporary vital community which would have many methods of speaking about literature, which would welcome the variety of attitudes, which would discuss and search for new sources of creation.
We want to start from the roots, from schools already, to invite young people from schools to speak and discuss issues with academic youth, lecturers and creators. We hear from the times of Socrates that only "the one who knows that he knows nothing" and tries to speak with others may develop and grow. The dialogue between people of different experience, attitude and style of creation encourages the growth of critical attitude which is missing in literature circles and entire society. This is our aim."