A. MIKUTA: "I DON'T WANT TO DANCE ROCK'N'ROLL ANY MORE" 0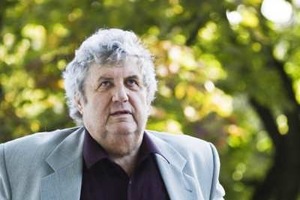 Vidmantas Kiaušas
www.kamane.lt, 2010 09 27
A.Mikuta. Photo by M.Kiaušaitė
Newest books of A.Mikuta
In brief: A creative evening of the poet Algimantas Mikuta was organised at Kaunas Artists' House in September, during which the book of poems "Terrace" (Homo Liber, 2010) was presented. The meeting was presented by the poet and chairman of the Writers' Union, Kaunas Branch Viktoras Rudžianskas, the actress Doloresa Kazragytė read extracts in Samogitian from the new book, the director of the publishing house Homo Liber, literature critic Vilius Gužauskas spoke about the works of A.Mikuta, the author commented his creative work himself.
V. Rudžianskas noticed: "The poet is recognisable in the book; the new thing is that A. Mikuta takes a sigh about its excellence Old Age and tries to become friendly with it. Still, he fails to do this as the vocabulary and the dynamics of poems starts raging, and the old age retreats."
V. Gužauskas indicated that the selection "Hour of Owl" (1984) of A.Mikuta was among the strongest. He also rejoiced that the poet kept the high level of creation. According to the literature critic, "Terrace" was written by a person who understands much about life and literature. The works of Mikuta are colourful, light and youthful despite the talks about age as such is the nature of the poet. Mikuta is one of the most outstanding Lithuanian poets who became a classic of the Lithuanian literature of the 20th century from first books and who stepped to the 21st century having his place and niche in poetry. "It seems to me that Mikuta is a lyricist first of all with a very good Samogitian sense of humour," V.Gužauskas said.
According to A.Mikuta himself, it is the eleventh selection of poems, while other selections are of different kind. He has published sixteen books in total. Speaking about the title of the book, the poet revealed that it reflected the attitude to the surroundings, from close by: from the terrace of childhood, terrace of present. "The terrace itself is a retro thing, as well as the author. There is some cheerfulness and sadness, some seriousness in the book. As I am not a big actor, I understand for many years already that nobody believes in excessive tears or merriment," the poet spoke during the presentation of the book.
"It is always better to be more natural. "Terrace" is not youthful, like colleagues say, it does not have to be such. The advertised daily life is youthful and emotional now. There is no advertisement-like delight in the book. I have seen one doddering general dancing rock'n'roll in Soviet years. I do not want to do this," A.Mikuta pointed out.
The author of the article met with A. Mikuta for a conversation on the following day. Here are some extracts from the conservation.
You made a debut at the age of 19 ("Flowers in Drawing Room", 1962); thus, your creative experiences reaches about 50 years. How did your attitude to the poem change; how did it start in youth and how is it now?
A poem, in my understanding, is an emotional thing; of course, some people might create it consciously. If there is no emotional mood, nothing will happen despite the age. You are faster at all works when young. Still, the text or the mood has to be in your head. I make many corrections, and a sentence or a stanza has to be in the head at the beginning, to which I later "attach" the entire text.
Is the aesthetical value of creation more important?
I would not say that poetry has only aesthetical value. If you want to tell beautiful stories but you do not speak about more filthy unpleasant things in human life, only some people will be interested in your creation.
It is not so long ago that poetry had aesthetical as well as social and critical function. At the moment interest in literature, especially poetry, has decreased. However, I notice that poetry comes to the human mind in a different way: by songs, poetical clichés used in various texts.
Speaking about literature, the biggest problem is that we have no authorities who would indicate the value of printed texts or texts announced on the internet, who would ground their arguments. Only some literature specialists are writing but they cannot encompass all literature. How can we speak about wilful artistic or political line in Lithuania if deserters are everywhere. When havoc is noticed in the society, havoc prevails in culture too. I would like one culture weekly to be more national, like the no-longer-existing Dienovidis, another – universal, the third – revolutionary, bold, not trying to please the supporters. Meanwhile, we have weeklies which are mixed and confused. Too little of power and ambition is present. We should not be so scattered in such a small land.
Let's talk about the culture press. What is your opinion about the situation which did not improve during two decades of independent Lithuania?
It is a painful topic. I have some experience in this field: I have worked in the magazine Nemunas. However, now when I have distanced from publishers, I may assert that there are too many culture publications in Lithuania. Moreover, they are timid, dependent on the state, financed by funds. They are supported not because of their quality but because of agreements and interests of guilds. The problem is the lack of financial capacity of all such publications; they have no authors and employees who would lift them above others and outrival them. Competition is impossible as the circle of authors is limited, and they run from one editors' office to another.
What books does the poet Algimantas Mikuta read himself?
I take read books into hands sometimes: Hamsun, Gogol, Chekhov, Russo, Rabelais, Donelaitis, i.e., certified classics. Sometimes I choose contemporary translations: I read several dozen pages and know whether it is worth continuing. I took several books of Murakami from the library; I read two novels of the cynic Bukovsky. I may mention the essayist Giedra Radvilavičiūtė and Danutė Kalinauskaitė, who is the strongest among Lithuanian authors. Many women and girls are writing but, while they were sentimental earlier, they have become vulgar now, and I don't like much of it. Renata Šerelytė, Laura Sintija Černiauskaitė were interesting at the beginning, but now they started repeating themselves.