COMBINATION OF DIFFERENT CULTURES: "ORCHESTRAL FLAMENCO" 0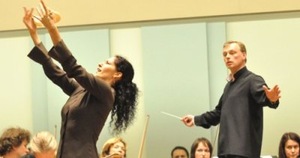 Justina Paltanavičiūtė
www.kamane.lt, 2010 06 30
In brief: A bit of flamenco culture was presented to listeners by the Austrian guitarist and composer Andreas Maria Germek and Spaniards Carmen Fernández (vocals), Belén Cabanes (dance) and José Santiago (percussion) along with Kaunas City Symphony Orchestra at Kaunas Philharmonic Hall on the 26th of June.
"Orchestral Flamenco", which was played during Pažaislis Music Festival, was described as "possibly the first attempt in the world to compose an instrumental concert based on flamenco in the classical manner" in the programme of the concert.
The opus of Andreas Maria Germek played in the first part – suite for flamenco guitar and orchestra "Time of Flowers" (Tiempo de Flores) – was the main accent of the whole evening and the global premiere of the musical composition. Not only the composition, but the idea was new as well: flamenco mixed with symphonic orchestra sounds and harmony as well as romantic colouring is not common in the academic world. The idea to join two things, which seem to be very different, is original and was carried out in an interesting way. However, the integrity of the work has suffered: fiery rhythms of flamenco were drowned by eclectic music, even though it was not necessarily bad. Flamenco rhythms are not inborn to reserved artists of the Lithuanian orchestra and polyrhythmic fragments were partly messed.
Flamenco music and dance usually illustrates deep inner feelings. The concept of Tiempo de Flores portrays feelings and relationship with the society and family of the person, who lost father while being a child. The suite concentrates on such sequence of words and events: life – memories – child – game – wonder – fear – search – pain – emptiness – father – missing – destroyed – body – silence – tears – marble – god – box – thorn – helplessness – courage – loneliness – feeling – dream – love – light – magic – vividness – illusion – life. It was not easy to figure all this out while listening, but an experienced listener could have tracked associations (in the "Church" part saraband can be heard).
Peculiarities of gipsy culture and inner dramas of a woman were revealed by the outstanding voice of Carmen Fernández. The audience were mostly charmed by choreography; however, the suite did not require demonstration of the dance technique, so it was more like contemporary dance theatre with elements of flamenco.
The second part of the concert was more gentle and merry. Fragments from the Spanish impressionist Manuel de Falla's ballet "Charmer Love" (El Amor brujo) was played. It sounded rather lifelessly after the first part – it lacked colours, temperament, contrasts. Sometimes it needed delicacy, sometimes – strength.
Three compositions of Andreas Maria Germek "Little Kittens in the Sun" (Gatitos tomando el Sol en la Azotea, Rumba), "Murillo Gardens" (Jardines de Murillo,Fandango) and "Taranto" were played at the end of the concert. They did not equal to Tiempo de Flores in depth and dramaturgy but were light and playful. "Taranto" composition enabled the dancer Belén Cabanes to demonstrate her fiery motions and complex technique while the music played the secondary role.
It is difficult to judge this concert as a solid formation. It was full of various moods, which provoked diverse emotions and evaluations. Maybe that was an attempt to persuade listeners of various types – both those who did not wish to contemplate complicated emotions and those who did not appreciate superficial and illustrative art. That corresponds to the idea of Pažaislis Music Festival as well – to offer a wide palette of events which enable one to choose according to different tastes of music.
Photos by E.Katinas