WOODEN ARCHITECTURE – LIKE SIGNATURE OF LITHUANIA 0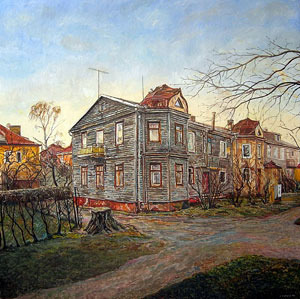 (L'architecture de bois signe la Lituanie) Gilles Vuillard
www.kamane.lt, 2010 02 02
G.Vuillard. Wooden architecture
Sauver l'architecture de bois en Lituanie, seuls les Lituaniens le peuvent ; cependant, je ne m'exprime pas, en tant qu'autre, je vie ici. Mes idées peintes, défendent ce qui est beau et menacé. L'architecture ce très bel art, inscrit les cultures dans les paysages. Au Musée d'Ethnologie, les maisons sont en bois. L'architecture de bois signe la Lituanie. Les gestes architecturaux par lesquels ces édifices ont été façonnés sont d'une grande dignité. Le bois, ses formes, ses couleurs ont fait et font ce pays singulier. La Lituanie s'étend des châteaux de bois de Kernave aux constructions de bois actuelles: églises, synagogues, immeubles, maisons, fermes et granges.
Only Lithuanians can save wooden architecture in Lithuania; still, I do not speak like a passer-by: I live here. My paintings defend beautiful endangered things by the idea. Architecture is a wonderful direction of art that incorporates culture in the landscape. Houses are wooden in the ethnology museum. Wooden architecture is like the signature of Lithuania. Architectural strokes in which these buildings have been "painted" are so respectable. Wood, its forms and colours have made and are still making Lithuania an exceptional country. Lithuania has seen wooden Kernavė castles as well as wooden buildings of the present day: churches, synagogues, multi-apartment houses, dwelling houses, farms and barns.
Styles régionaux, classicisme, baroque, rococo et art nouveau, nourrirent la grammaire de cette architecture. Dans les quartiers de bois, ornements, colonnes, frontons, balcons, portes, escaliers extérieurs, parties métalliques (grilles, auvents, toits, tourelles) sont les fruits d'une ingéniosité au gout certain. Les couleurs vives, des façades et des détails, sources de joies, diaprent l'hiver.
Depuis dix ans, fenêtres, portes et fausses planches en plastique, bétons aglomérés et briques recouvrent le bois, comme une plaie que l'on souhaite cacher. Les maisons se coiffent de toitures grotesques elles disparaissent, enveloppées, mal restaurées ou brûlées. Seule une vingtaine de ces maisons sont protégées à Kaunas, autant dire rien.
Regional styles, Baroque, Classicism, Rococo and art nouveau inspired the main rules of this architecture. Quarters with prevailing wooden architecture astonish by originality: there are many ornaments, columns, pediments, balconies, doors, external stairs and metal details, such as racks, small roofs above doors, roofs, towers. The colours of façades and details are lively – they are the source for joy decorating and granting vitality to winter.
Plastic windows, doors, artificial plants, pressed concrete and bricks cover wood like a wound, which one wants to conceal, for a decade already. Strange grotesque roofs are put on houses, they disappear, are covered by other materials, restored ignorantly or burnt down. Only about twenty houses of this kind are protected in Kaunas, and this is next to nothing.
Qu'est-ce qui est menacé au juste? Des œuvres, d'architectes et d'ingénieurs tels que : Landsbergis-Žemkalnis, Kudokas, Finkelstein, Vizbaras, des castelets de bois comme ceux de Panemune, des presbytères à colonnades, certaines églises, des synagogues à Ziezmariai, Alanta, Kurkliai …des quartiers qui symbolisent le renouveau culturel qui mena en 1918 à l'indépendance, des quartiers en bois tels ceux de Kaunas lorsqu'elle fut capitale, des quartiers de bois de Vilnius, des fermes, de jolies petites villes et villages (…) en somme l'âme elle-même de ce pays.
What is endangered in fact? The works of such architects and engineers as Landsbergis-Žemkalnis, Kudokas, Finkelsteinas, Vizbaras; wooden villas of Panemunė, rectories with columns, some churches, synagogues in Žiežmariai, Alanta, Kurkliai, quarters symbolising the cultural rebirth which led to independence in 1918, wooden quarters in the former capital Kaunas, wooden quarters of Vilnius, homesteads, beautiful small towns and townships, villages, i.e., the spirit of the country itself.
Il suffirait d'une loi, d'une directive pour protèger les maisons de bois; que l'on classe certains quartiers : Panemunė, Žalakalnis, Sančiai, Viliampolė (à Kaunas, et autant de quartiers de Vilnius) que l'on favorise la réfection dans le style, pour que le massacre cesse. On parle de classer Žalakalnis, il faut agir! Il est possible de favoriser l'usage du bois par l'impôt, la détaxe. Comptons sur nos ressources: protégeons! L'U.N.E.S.C.O ou l'Europe aideront peut etre, si on les sollicite, le bois est écologique, c'est la mode. Nous éviterons les taxes écologiques à venir, en valorisant ce matériau, répandu, peu cher, pratique, naturel, sobre, propre, isolant. Le bois, est l'avenir. Il faut restaurer, construire même, des maisons traditionnelles, de vraies maisons lituaniennes, avec un peu d'astuce moderne qui ne se voit pas. L'esprit est la propriété de qui s'en empare. Combien belle serait une Renaissance de bois. La Lituanie deviendrait une petite Italie de bois. Pourquoi l'Italie est-t-elle si douce? Pourquoi la ville de Sienne est-t-elle si belle? Vieilles ville, vieilles églises, rues tordues... Dans les pays scandinaves, des villes de bois anciennes, sont conservées avec soin. Dans vingt ans, la Lituanie sera une destination touristique, s'il reste des choses particulières à y voir.
One order or directive dedicated to the preservation of wooden houses would be sufficient. It is necessary that some quarters would be announced objects of culture heritage: Panemunė, Žaliakalnis, Šančiai, Vilijampolė quarters in Kaunas, several quarters in Vilnius. Favourable conditions for their repair and restoration following the same style should be created in order to stop their destruction. It is spoken about the announcement of Žaliakalnis the object of culture heritage; therefore, it is necessary to act! It is really possible to encourage the use of wood at reduced taxes and duties. We should trust our resources and preserve this heritage! UNESCO or Europe will most probably help us if we ask them: wood is an ecological product, it is fashionable. We will avoid future ecological duties and reveal the real value of this widely-spread, cheap, practical, natural, clean and well isolating construction material. Wood is the future.
We should restore and build traditional houses, real Lithuanian houses with several contemporary tricks that would not be visible. (...) The wooden renaissance would be so beautiful! Lithuania would turn into the small wooden Italy. Why is Italy so cosy? Why is the city of Siena so charming? The old town, old churches, curving streets... Ancient wooden towns are carefully preserved in Scandinavian countries. Lithuania will be visited by tourists if it preserves original details typical to it after twenty years.
Je souhaite souligner l'importance de publications remarquables, celles des professeurs Nijole Lukšionyte et Algė Jankėvičienė qui défendent cette architecture; l'ouvrage sur les Synagogues du Docteur Marija Rupeikienė; et le livre Medinis Kaunas dont Andrius Surgailis a pris les photographies
Mon travail diffuse la culture lituanienne, en valorisant certaines formes d'habitat. Je peins l'architecture de bois, c'est ce qu'il y a de plus singulier ici ; si elle disparaît, je peindrai autre chose. Mais, si elle disparaît, de l'architecture la plus lituanienne qui soit, ne resterons que quelques images, peintures, photographies; des témoignages en somme et de la nostalgie. Depuis peu, je vois dans Žalakalnis des maisons de bois, repeintes ou restaurées, il y en a sur Ausros, sur Jankos et ailleurs..L'une d'elles est presque parfaite, le toit même est typique. L'espoir prend forme…Je suis un peintre démocratique, je peins à l'huile d'après nature, les lieux, les piétons, les animaux et les plantes. Je peins ce que je vois, et pense ce que je peins dans la joie vive, le regard porté vers l'avenir.
I would like to emphasise the importance of wonderful publications on this theme – the works of lecturers Nijolė Lukšionytė and Algės Jankėvičienė defending this architecture, Dr Marija Rupeikienė's work on synagogues and the book "Wooden Kaunas" with photographs taken by Andrius Surgailis. I am thankful to Rimantas Giedraitis, who let me exhibit my works, and Birutė Strakšienė, who translated this text to Lithuania.
I contribute to the dissemination of Lithuanian culture by my work and turn attention to some valuable buildings. I paint wooden architecture, its original and outstanding features. If this architecture vanishes, I will paint other things. Still, if it vanishes, several views, paintings, photographs, testimonies and nostalgia about this Lithuanian architecture will remain. I notice repainted and restored wooden houses in Žaliakalnis, Aušros, Jankaus and other streets lately. One of them is almost perfect, with a characteristic roof. Thus, hope gets shape...
I am a democratic painter; I paint various places, passers-by, animals and plants by oil from nature. I paint what I see and think about the themes of my paintings with live joy and a look to the future.
Postscript of the editors: The painting exhibition of the French artist living in Kaunas G.Vuillard "Wooden Architecture Marks Lithuania" is open in Kaunas Old Town Club (Vilniaus Str.34) from the 29th of January. More about it – at http://www.kamane.lt/en/naujienos/daile/dnaujiena1030
Photographs of the exhibition:
http://picasaweb.google.lt/gillesvuillard/EXPOSITION29JANVIER11FEVRIER2010?authkey=Gv1sRgCMehxLuZg8qwiAE#
More works of the painter: https://www.paveikslai.lt/lt/dailininkai/gilles-vuillard/