EMIGRATION AS THIRST FOR CREATIVE SPACE 0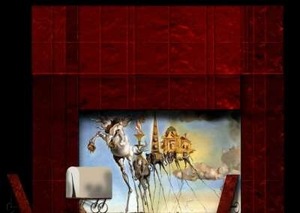 Vida Savičiūnaitėwww.kamane.lt, 2010 02 24S.Bocullo. Photo from the personal archiveIn brief: The phenomenon shameful to the state – creative emigration of artists – is forming in Lithuania lately. The most talented creators, i.e., directors, musicians, dance masters and artists of other fields, often feel more needed and valued abroad.Bread is sufficient for joy of the masses. Still, there are strange people in Lithuania who are not satisfied with bread only. Such is the well-known and experienced stage designer Sergejus Bocullo, who feels creative fullness only when working abroad during the latter five years, unfortunately.He has not left Kaunas for good. Looking formally, he is not forgotten in his city and Lithuania. The surname of S.Bocullo has been mentioned at least 35 times in various posters of Kaunas, Klaipėda, Panevėžys, Šiauliai theatres during the last decade. Therefore, it seems that he is not short of bread. Why should he struggle?I see how you get wings when you create sketches for theatres of other countries (Estonian, Norwegian or Russian. Why does scenography for Giacomo Puccini's opera "Tosca" at Estonian National Theatre (2005), Dalhala festival in Sweden and later in Trondheim (2009, Norway) make you proud? Why do you remember the creative process of the musical performance "Red Sails" and premieres at Saint Petersburg Baltyjskij Dom (2007) or Samara (2009) theatres with pleasure? Why do you feel no joy while working in Lithuania any longer?I cannot complain about the amount of work in Lithuania; still, I am no longer satisfied with the possibilities for the quality. I have become tired of compromises. I am a creator; therefore, it is no enough for me to decorate the stage and to create a primitive interior. The situation is getting worse all the time, especially during the recent years, when actors rather than directors started reigning in the majority of Lithuanian theatres and when the really primitive understanding of stage design set in.
G.Puccini."Tosca" in Trondheim. Conductor G.Rinkevičius
G.Puccini."Tosca" in Trondheim
G.Puccini."Tosca" in TrondheimWhen scenography is ordered today, one of the two directions is chosen: two stools and many actors on the stage or "make it look like Hollywood but at the cheapest possible price". And it has nothing to do with the economical crisis. It is the crisis of the attitude destroying stage design art as well as theatre art in general.I do not want to fit into the trunk or a suitcase. When there are more prohibited things than allowed ones only due to the fact that there will be no possibilities to present it in some festival in the Emirates, I do not see any meaning in such work as a creator. Only earning of money remains; however, as I have told, I am not satisfied with this any longer.Therefore, I am not searching for money in foreign countries - I am only saving myself from the mandatory personal creative decline.
A.Grino "Red Sails". Baltijskij dom. St.Petersburg
A.Grino "Red Sails". Baltijskij dom. St.PetersburgWhy is stage design important in theatre? Perhaps too much prominence is granted to it?Well, you may listen to a sermon in the dessert; still, it has a bigger impact at church, where certain atmosphere and space has been created. Scenography performs the role of space dramaturgy in theatre, if it is not vain, if it is effective and eloquent. It makes the silent space speak, reinforces the director's power while revealing the theme of the performance. Scenography as the visible reality of stage art is an inseparable part of theatre aesthetical value. I accept the performance through my eyes first of all, when I watch it.
"When a Star is Falling". Kaunas State Puppet TheatreThe Lithuanian theatre has always been strong by its stage design art. If you had to make a selection of personal archons of this field, whom would you name?The classicLiudas Truikys first of all. He started the history of professional stage design in Lithuanian theatre. The golden decades of Kaunas Theatre may not be imagined without Janina Malinauskaitė, who has created superb works. An outstanding phenomenon is the principled and consistent romantic Jonas Arčikauskas. I personally was influenced by Adomas Jacovskis the most. The unexpected discoveries of visual dramaturgy of J.Paulėkaitė are incredibly charming. Looking at the generation of younger stage designers, I enjoy deeply professional and subtle works of Kotryna Daujotaitė, fantastic hyper theatre of Julija Skuratova, which is of the global level.And what a paradox: the Lithuanian theatre has raised the whole crowd of stage designers of all generations; still, there are no stage design critics. The theme of scenography always remains somewhere behind the last full stop in texts about theatre. It is painful, of course.
"Man of La Mancha", a sketch for Samara TheatreYou created all of your most ambitious works in Tallinn, Saint Petersburg, Trondheim, Samara along with the director Raimundas Banionis during the latter five years. May your tandem be called international creative mafia already?Most probably, yes (laughing). Still, not all mafias are bad. At the moment I am creating sketches for the performance "Man of La Mancha", which should be directed by R.Banionis at Samara Theatre again.