IN MEMORIAM OF A.VAITKŪNAS. PARIS. YEAR 2003 0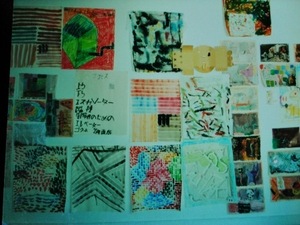 Aušra Barzdukaitė-Vaitkūnienė
www.kamane.lt , 2008 02 28
In Paris studio. 2003
Our paintings in studio. 2003
In brief: The end of March 2003 was terribly cold. The three of us left for Paris from Kaunas bus station on a dark evening torn by icy wind. Tomas attended the first form then but we with Arūnas decided that a trip would also be a good school for him.
Paris met us white and fresh from the early morning sun. Tomas looked everywhere with eyes wide open, and Arūnas questioned him: "Well, how is it? Tomas, how is it? Look, look here! Look around!".
It seemed that he would give the entire Paris to the son if he could. We stayed in Cité Internationale des Arts again. It seemed that we never left. However, it was the three of us this time. Everything is close – Notre Dame over the bridge, Centre Pompidou after a few minutes along Rivoli Street. The castle-museum of Pablo Picasso, galleries deeper in Marais quarter.
Tulips bloomed in squares and small gardens, soft greenery covered the plane trees, chestnut trees set out first blooms near Notre Dame. Arūnas carried a thick notebook similar to an encyclopaedia. He made sketches, drew, took notes. Tomas followed his father. He also had a notebook.
A retrospective exhibition of the painter Nicolas de Staël (1914-1955) took place at Pompidou Centre then. It was well exhibited. Arūnas analysed this exhibition thinking how to present his own exhibition for the 50th anniversary.
April afternoons in Tuileries gardens were warm and lazy. Arūnas drew forms of shadows, kissing couples, passers-by. Tomas and I warmed up in the sun listening to doves.
Arūnas discovered a small wine shop. It was possible to buy a bottle of wonderful Bordeaux wine for three euros. Bordeaux Châteu de Naudonnet of 1996 or Château de Auzines was good, but Arūnas loved Corbiéres red wine, which was lush and rich. He used to uncork the bottle and make dinner - he was rather talented in cooking.
A young pianist Edvinas Minkštimas used to visit us. He studied at Paris Conservatoire then and lived in studios of artists. Once the pianist invited us to his recital and later to a party after the concert. Diverse people gathered in a small studio, Russian artists, Lithuanians living and working in the city.
We walked along the banks of the Seine in blue velvet evenings followed by the white moon. During one walk, we met the writer Valdas Papievis. We talked about Lithuania and tasted French champagne, while Tomas ate fried frog hams with pleasure.
All of us three painted: in ink, pencil, watercolours – paintings, sketches, plans and routes, notes or text remarks on a sheet of paper or newspaper found at hand. All these paintings laid on the studio wall spontaneously. The wall grew with every day, it expanded. Our joint work appeared from this light jazz, intoxicating being together, impressions and Paris air. We exhibited this wall called simply Wall Paris cité des Arts at Meno Parkas gallery in 2004.
Longing for serious art, we returned to Louvre. We never deepened into the works of Nicolas Poussin earlier and now the painter charmed by mysterious carriers of giant grape bunches and complicated themes. Or we stood shocked by the dramatic light of the other side of Georges de la Tour.
We used to visit Montmartre, Gustave Moreau Museum located in Rochefoucauld Street. Later we returned to contemporary art and took the metro to Biblothéque Françoiso Mitterrando station from where the quarter of alternative art galleries could be reached. Sometimes we found high-quality and good art, sometimes – unsettled and crazy art as Beaujolais Nouveau wine.
Spring in Paris stormed in blooming chestnut trees. White reflections of house facades rocked in the water of the Seine. Couples of lovers drank wine from bottles wrapped in newspaper in squares and we did not want this festival of life to end.