IN MEMORIAM OF A.VAITKŪNAS. PARIS. YEAR 1997 0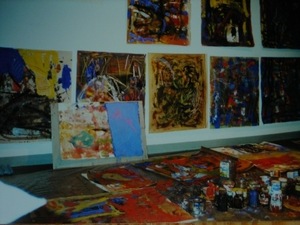 Aušra Barzdukaitė-Vaitkūnienė
www.kamane.lt , 2008 02 28
Arūnas in Cite Internationale des Arts studio. 1997
Painting in Paris studio
In brief: In 1997, after almost ten years, Arūnas left for Paris again. This time he intended to paint, visit museums, walk along the banks of the Seine and register impressions in notebooks.
He lived in artists' studios in Cité Internationale des Arts in February and March. The workshops are in the very centre of Paris, in one of the oldest quarter Marais, near the Seine. After passing Louis Philippe bridge and the smaller Pont st. Louis, walking a few steps along Cloitre N. D. street, one appears in front of the magnificent Notre Dame cathedral.
I stayed in Kaunas along with little Tomas. We wrote letters to each other and talked on the phone. I could feel that Arūnas admired museums from his impressions. It was one of the first longer trip to the capital of arts.
He visited La Défense (the giant business centre in the outskirts of Paris) to see La Grande Arche standing on the axis connecting Arc de Triomphe and Louvre pyramid. Charmed by the perspective and the view, he decided to return to the centre on foot. He could not move the next day and had to paint, eat and drink wine without leaving the house for three days.
After seeing much and admiring the colours of Sainte- Chapelle stained-glass works, after getting acquainted with the collection of bronze sculptures of Aristide Maillol in Jardin des Tuileries, he calmed down and started working.
Arūnas took a large folder of paper, tempera and gouache to Paris. He chose lighter technique instead of oil and canvas. He could think in colours quicker on paper. He wanted to render impressions, register moods and feel the atmosphere of this city. Soon the studio became a real workshop of Arūnas. The walls, tables and floors were full of unfinished paintings. He wrote down while painting: "I am on the border which may be trusted already".
I came to Paris in March. Endless visits to museums, walks along streets and places which have already been discovered by Arūnas started again. Everything was new to me, seen only in history books. We admired the abundance of the city, its smells.
After returning to the studio, we painted. We used to drink wine in evenings and talk till late night. Sometimes we walked in the night city, up to Pont Neuf, along the banks of the Seine and back. It seemed that Paris was never asleep.
Mornings started with coffee and viewing of wealth of book sellers on the quay. One day we dropped into a large bookstore where Arūnas' attention was attracted by a wonderful book about the painter Georges Rouault. The book was covered in plastic, and Arūnas leaned it against the wall in the studio stating that perhaps he would never unpack it. Perhaps this was a way for him to preserve and slow down the time of Paris.
He brought this book home unpacked. Colleagues started to joke about it but Arūnas explained seriously: "I do not want to return from Paris yet."
The painter Mykolas Šalkauskas ( 1935-2002) visited us at the beginning of autumn. Telling about Paris, Arūnas opened his folder unconsciously. Mykolas evaluated the works created by Arūnas in Paris well. Later Arūnas selected halls for exhibiting these works carefully. He wanted them presented in neat frames and with mate glass.
In 1998 Arūnas left for Berlin, where he exhibited "Paris auf Papier" at Giedrė Bartelt gallery.
In 1999 these works were exhibited at Kaunas Picture Gallery of the National M.K.Čiurlionis Art Museum. The time of the exhibition coincided with the exhibition of the famous world painter Sigmar Polke. The works of the German painter were presented in one hall, and the works of Arūnas – in another. The exhibitions were contrasting but spoke about life in the world in voices of strong personalities.
Arūnas wrote a short text for his exhibition: "It is a compensation of day impressions. Abundance of particular facts drowned in synthesis. It is the reflection of environment. Every work has particular inspirations from which I distanced to painting areas while working. It is a simple entirety of work in Paris'97".