VICISSITUDES OF THE BEGINNING OF THE SEASON 0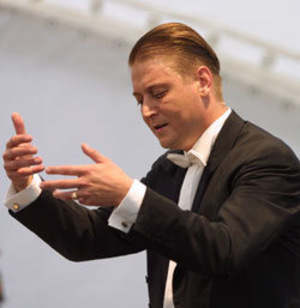 Osvaldas Grinius
www.kamane.lt 2007 09 11
A.Sladkovski
In brief: Kaunas State Musical Theatre started the 67th season in a rather unexpected manner. The collective of the theatre presented the sacral music piece by L.van Beethoven performed in the monumental Christ's Resurrection Church on September 9. The Mass C major, the work encouraging spiritual concentration, sounded like a counterbalance of serious music for the promised merry premieres of the new season.
The performed Mass is not exceptional for special complexity, ample forms or pomp. The music piece is of rather lucid mood creating sacral and elevated atmosphere. Thanks to the conductor from Russia Aleksandr Sladkovski who headed the performers by plastic and moderate movements, the work obtained many lively colours and embodied the dedication of the evening to the memory of terrorism victims intelligently.
The theatre orchestra conducted by a bright personality showed that it could play in a stylish and concentrated manner. The groups of string and wind instruments which sounded evenly obeyed the authoritative gestures of the conductor, graceful phrases of solo instruments became prominent in separate episodes. One could enjoy the silver and moderate piano during the accompaniment to four soloists or the bright, lush and energetic forte during the climax moments.
The quartet of theatre soloists which sang in the concert is not a beginner in the concert genre. Algirdas Janutas who has the biggest experience surprised by the soft tenor of high quality and the pleasant colour of the voice. The owners of rich voices: mezzo soprano Rita Preikšaitė and bass Tomas Ladiga did not succumb to him. Nomeda Vilkanauskaitė pleased the audience by the soft soprano. Even though she balanced on the exact intonation border while singing the piano episodes, the sincere interpretation of the singer triumphed.
The choir artists received the biggest load during the concert. Singers who are used to movement on the stage had to concentrate on qualitative and unanimous sound as well as stylish sound culture. The rather small choir of the theatre was successful in the new role. Clean assonances, technical performance testified about the rather high quality of actors' voices. It was only a pity that the choir lacked power in the climax episodes and it had to succumb to the orchestra which demonstrated greater dynamic possibilities.
Even though the unusual turns of activity become serious tests to music collectives, such an initiative is commendable and anticipated. The concert did not present any extraordinary discoveries but it enriched the cultural life of Kaunas with taste. The abundant audience left the church lifted.