LET'S DECLARE LOVE – IN NORDIC MANNER 0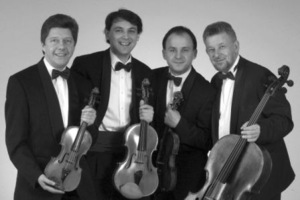 Osvaldas Grinius
www.kamane.lt, 2007 03 21
M.K.Čiurlionis Quartet
Asta Krikščiūnaitė and Audronė Kisieliūtė
In brief: The motto of the third concert of the festival of E.Grieg and M.K.Čiurlionis Music organised on March 16 at M.Žilinskas Art Gallery was "Nordic Meetings". Scandinavian composers' works were introduced to listeners by the singer A.Krikščiūnaitė, pianist A.Kisieliūtė and M.K.Čiurlionis Quartet. Music pieces of the Danish composer Carl Nielsen, Swedish composers Hug Alfven and Wilhelm Stenhammar, Finnish composer Jean Sibelius and Norwegian composer Edward Grieg sounded during the evening.
One may wonder how much variety may hide behind the genre called Lied in German. It was possible to become sure that the creators of Scandinavian countries are not worse than the composers who have formed this genre. The songs performed by A.Krikščiūnaitė and A.Kisieliūtė charmed by their melodies, finished forms and rather exotic harmony.
The string quartet g-minor by E.Grieg performed by M.K.Čiurlionis Quartet sounded as beautifully as the songs. The four players interpreted the music piece ingeniously, exchanged musical phrases and pointed out the themes of solo instruments. Wonderful music was based on perfect technique and ensemble playing. Perhaps more sincerity of the performers would have been useful.
Meanwhile, the duet of A.Krikščiūnaitė and A.Kisieliūtė was very sensitive. The two performers sounded as one. The diction of A.Krikščiūnaitė is a perfect example to every singer – every voice and consonant, word structures could be heard. The meanings of texts could be understood with the help of the concert head who presented every song shortly. Of course, translations of texts in programmes would have been more useful.
It is not often that we have a chance to listen to the intellectually and emotionally interpreted genre of Lied in our country. Still, it does not mean that we do not have performers capable of singing this genre. Most probably, many listeners who have heard the concert could say to the duet of A.Krikščiūnaitė and A.Kisieliūtė the words of a Danish song "Jeg elsker dig" (I love you) after the concert.