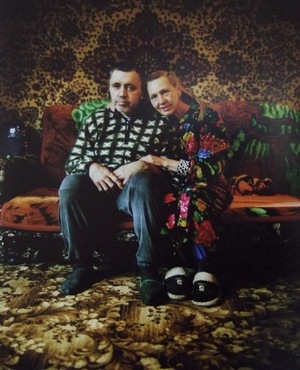 (Exhibition of Simon Roberts photographs "Motherland Russia" at F Gallery) Kotryna Džilavjanaitė
www.kamane.lt, 2007 03 19
In brief: The old Žaliakalnis funicular of Kaunas has turned into a time machine and brings travellers to the past or present-day Russia. The exhibition of the British photographer Simon Roberts "Motherland Russia" is a cycle of photographs which has gained many responses abroad. It has been created during long trips in the far regions of Russia – along the Siberia, the Far East, Volga banks, Kaliningrad in search for places which have not been touched by modernisation.
S. Roberts constantly goes to politically and socially unstable countries and registers the painful, actual present-day life. The photographer tries to touch the open nerve of the humanity and to be socially influential. In the background of other works of Roberts, the cycle "Motherland Russia" seems to be moderate, calm and even optimistic. It is embodied in the variety of genres – from portraits to urbane and natural landscapes. However, the photographer retains the unity of meaning, the common mood and continuity.
It could be stated at the first look that the photographer sees Russia as Tarkovski Stalker's Zone – a kingdom of the border where everything is colourful but the mood of the apocalypse, atomic winter prevails. Still, the photographs and their aesthetic presentation contradicts the image of Russia's depression and decline. The real spirit of the country is best represented by the characters of photographs, their simple and emotional faces. Roberts is attracted by the workers' class the most – fishermen, workers, market traders. The author searches for signs of Russian nation in them and paints the image of people who are open and who love their homeland without any doubts.
Why did Simon Roberts export "Motherland Russia" to Kaunas in specific rather than some other wonderful works? Most probably, the author felt that we would look at these photographs by a special look. Images of the exhibition work like the déjà vu phenomenon that everything has been felt and experienced before. It is a meeting with our past time which has become the past here while it is still the real present time there, in Russia.