OASIS OF RUSSIAN MUSIC IN KAUNAS 0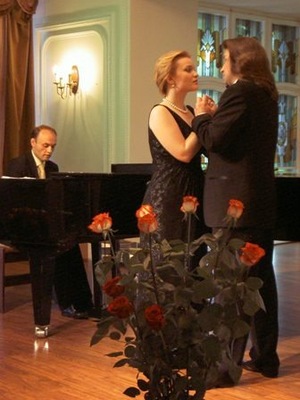 Osvaldas Grinius
www.kamane.lt 2007 06 08
Singers Darja Zykova and Vladimir Avtomonov, pianist Aleksej Lukovnikov. Photos by G. Velykis
In brief: Germans have their genre of songs "lied", Frenchmen admire their "chanson". Russian music may not be imagined without a romance and a folk song. It was possible to hear such Russian songs at the hall of Kaunas Artists' House on June 7, when Kaunas Russian Cultural Centre "Science – Light" presented two young Russian singers Darja Zykova and Vladimir Avtomonov.
Creative works of Russian composers sounded during the afternoon. Original romances and songs, old Russian romances and folk songs prevailed and, thus, a wide perspective of the Russian domestic music genre was presented. The only work of stage music – aria of a Snow-girl from N.Rimski-Korsakov opera "Snow-girl" fell out of the context of the programme even thought it was full of intonations typical of the national Russian music.
The songs were performed by young Russian performers who have already gathered some titles – the winner of international contests, soloist of Moscow Philharmonic V.Avtomonov (powerful and emotional baritone) and the winner of international contests, doctor student of Moscow State P.Chaikovski Conservatory D.Zykova (subtle and professional soprano). Her voice contrasted with the baritone by the strength - after emotional shows of V.Avtomonov, romances interpreted in a subtle manner by the soloist made everyone listen up. The singers were accompanied by the pianist Aleksej Lukovnikov, a lecturer of Moscow State P.Chaikovski Conservatory. He played in a subtle manner and sounded expressively in the solo episodes.
The concert of such level could have been organised in the main halls of the city, and there were few unoccupied seats at the Artists' House as well. True, the listeners were mostly Russian-speaking Kaunas residents but the emotional and sincere singing could touch the hearts of listeners of any nationality that afternoon.