PERFORMANCE – LIKE NOSTALGIA TO CHILDHOOD OF ONE PART 0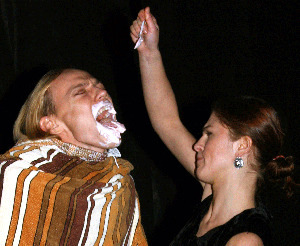 Margarita Pilkaitė
www.kamane.lt, 2007 02 06
"I Love Your Very Much". G.Ivanauskas and E.Užaitė. Photo from iš www.menufaktura.lt
In brief: Gytis Ivanauskas Theatre, which was established not so long ago, presented the newest performance to Kaunas audience "I Love You Very Much" this weekend. The performance was described as a one-part performance without text. One is clear – the project encompasses aesthetics of dance, a drama performance or even a musical.
The main idea and theme – memories from childhood – are revealed by actors by small sketches which are not related with each other. The director and choreographer of the performance did not hide the wish to use innovatory plastics means that break traditions of stage art. For this purpose a team of actors who have already participated in former performances of Gytis Ivanauskas - Brigita Urbietytė, Evaldas Taujanskis, Eimutis Kvoščiauskas, Edita Užaitė – were invited. Such famous actresses as Viktorija Kuodytė or Rasa Samuolytė also met with the director in former joint projects.
The performers joined chorographical elements and the acting of drama organically on the stage. There were many original plastics searches which had an evident emotional and idea charge. The performance is very dynamic and constantly changing – it affects the hearing, seeing and emotions of a spectator by sound, plastics and thematic contrasts. Naïve childish and provoking actions of grown-ups are intertwined into one thread erasing the border between the past and present. In this way it is reminded painfully that the return to the security of childhood is a utopia.
However, G.Ivanauskas tends to prolong certain scenes without motivation and thus destroys the internal rhythm of the performance. Many mise-en-sc`enes serve for the expression of thought rather than movement; therefore, it is evident that the choreographer is distancing from a dance performance little by little towards the drama genre.
Still, despite separate fragments of the performance, it is united by one theme – childhood. It is pictured as a light, merry status, as a safe port for a tired grown-up person to which there is no way back. The theme is developed by the minimalist and functional scenography created by the choreographer himself. It unites the sketches into one hole.
Thus, the performance "I Love You Very Much" reveals the vision of G.Ivanauskas Theatre even deeper - the choreographer is striving for a light, playful and visually attractive theatre, the theatre which asks rather than answers, which investigates and provokes. The search for individual language is the strength of G.Ivanauskas Theatre which should be developed and improved. If no niche and unique face is found, a threat appears for the ambitious GI Theatre to sink in the sea of KSDT, OKT, ACH and other theatres which already have their positions.