CONCERT — BETWEEN CLASSICS AND JAZZ 0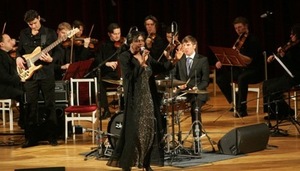 (Remark) Lina Vidūnaitė
www.kamane.lt, 2007 02 05
Photos by L.Brundza.
In brief: "The only concert in Lithuania", "the brightest jazz singer from the USA", "globally famous stars", Kaunas Philharmonic invited listeners to the concert "Classics in Jazz and Jazz in Classics" by such advertisement slogans last weekend. The Philharmonic, which was cast away from its house due to reconstruction work organised the concert at Vytautas Magnus University hall which is best associated with the spirit of Kaunas Jazz.
The traditional hall and lobby which is hardly heated had to be warmed up by the creative dialogues of classics and jazz. Hearts of the audience were to be heated by the string orchestra Camerata Klaipėda headed by Vilhelmas Čepinskis and the guests who performed the roles of celebrities - the jazz singer B.Houston and pianist Valerij Grochovski's Jazz Trio (Russia).
The full hall of the university became much warmer as soon as V.Grochovski band and B.Houston appeared on the stage. Meanwhile, the head of the string orchestra V.Čepinskis whose idea was to organise a concert with famous performances observed the concert from the hall.
Gourmands of contemporary jazz of freer improvisations understood soon that their interests were not the most important that evening. Popular melodies which could be easily recognised were played, and the concert heroes were constantly joking. The benevolent team of listeners were kindly applauding after the popular music pieces. Exceptional attention was allocated to the bass player Anton Rivniuk from V.Grochovski's trio who has features of a virtuoso.
The youthful collective of Camerata Klaipėda joined the guests in the second part of the concert; however, not so much attention was paid to it in the programme. Emphatically friendly relations of performers on the stage, abundant compliments of the guests to the audience and free Lithuania strengthened the effect of music dedicated to relaxation on Friday evening, and almost everybody felt happy.